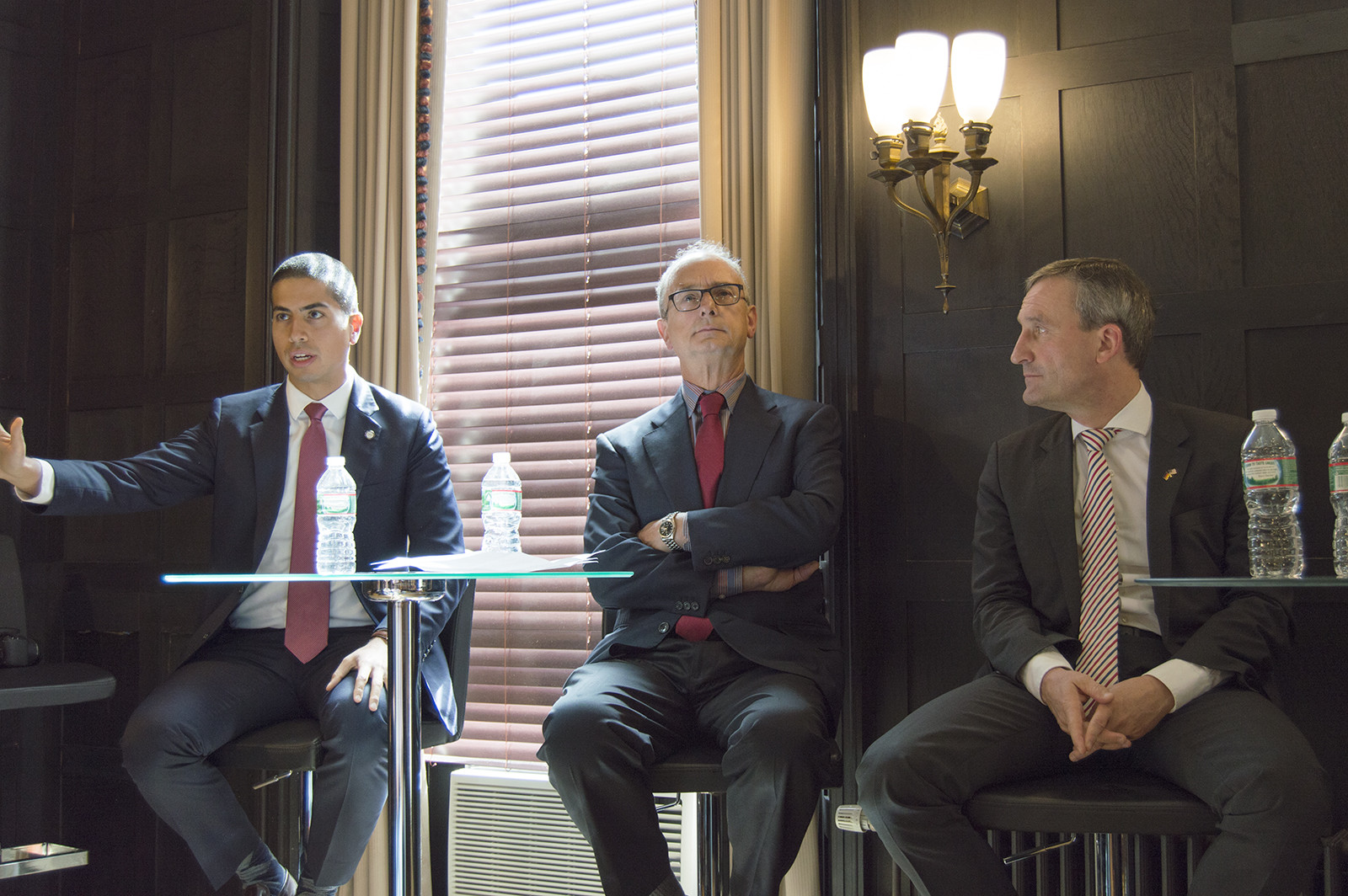 The Initiative on Cities and the Center for the Study of Europe at Boston University invited Düsseldorf, Germany, Mayor Thomas Geisel to host a conversation, "Leading Cities From the Left," with Boston University community members Tuesday. Around 50 BU students, faculty and community members attended and gathered in the first floor of the Frederick S. Pardee School of Global Studies to discuss the challenges of leading a city from the political left.
Mayor Geisel stands as the first social democrat to win the position of Düsseldorf's mayor in 15 years. He spoke of his experience leading from a central-left perspective.
"It is our mission of the party … to avoid that the rich get richer and the poor get poorer while at the same time respecting liberties," Geisel said. "I am very well aware we cannot produce paradise on Earth, but we can make every effort to make this world a better place. If we left it all to market forces, the social fabric would disintegrate and the commonwealth would collapse."
Leading Cities from the Left also featured Dan Koh, chief of staff to Boston Mayor Martin Walsh, and Kaija Schilde, professor of international relations in the Pardee School. The presentation was moderated by IOC Director Graham Wilson.
Wilson described the refugee crisis in Europe as one of the most pressing issues Geisel is currently facing in his country. An unprecedented number of refugees have been migrating into European cities, escaping the conflict and violence of their homeland. Geisel said he accepts the immigrants, but has expectations of those who move into the city of Düsseldorf.
"They make a choice to move to an open society and a welcoming place, but it also has some obligations, some basic values that make Düsseldorf a place that people want to live," Geisel said. "They need to be respectful. That is a prerequisite for our community to work. Without it, it's going to disintegrate."
Koh responded with a mention of a controversial Boston Herald story that included a statement from Walsh, in which he stated he would be accepting of Syrian refugees who choose to immigrate to the city of Boston. The resulting response to the story was a mixture of negative and positive, and Koh connected the viewpoints of both mayors.
"Our own values at the end of the day is what influences policy and what influences the most tangible part of city politics, which in my mind is city government," Koh said.
Geisel identified housing and residence planning, high-standard education and improved mobility as his three main points of focus for progress in Düsseldorf.
At the close of the event, Geisel left the Pardee School to meet with Mayor Walsh.
"Our fundamental goal is to understand, study, promote and assist dynamic urban leadership in 21st-century cities. Our role as BU as a great university in a great city is to assist in that process," Wilson said. "This will be the start of a closer relationship between the cities of Boston and Düsseldorf and also the colleges and universities within them."
Elizabeth Stern, a senior in the College of Arts and Sciences, has a personal connection with Düsseldorf. Her mother's side of the family is from Düsseldorf, and she has been exposed to the cultural side of the city from past experience.
"I don't know a lot about the politics or the general infrastructure. I didn't realize how different the political infrastructure is throughout Germany," she said. "I think that's going to be interesting for me, just learning how different leaders in different cities work together."
For Rongchen Jiang, a second-year graduate student in the Pardee School, the real-world application of the subject matter of Leading from the Left poses inherent similarities to China.
"I'm interested in [the] European left wing party," said Jiang. "[Geisel] is a socialist left wing politician. I come from China and China is under the leader of socialists, even though they may be different types of socialist. I think his experience might provide some help over what China's socialist policy might be for tomorrow."
Charlott Johansen, a second-year grad student in the Pardee School, said she used this IOC event to extend her education of international politics past the classroom setting.
"It sounded like an interesting talk on city development. They offer different perspectives from your classes," she said. "You only take four per semester, so that limits what you can study. I want to learn more, and it's the same for other people."