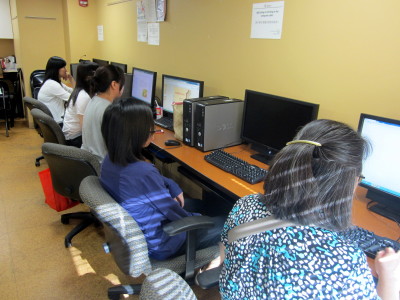 More than $4 million of new funding from the Mayor's Office of Workforce Development will provide Boston residents with access to employment, education and financial empowerment opportunities.
The office, an affiliate of the Boston Redevelopment Authority, chose 60 local non-profit organizations on Sep. 15 to receive the funding through a request for proposals issued March 24, according to a release by the BRA. The grants could help over 3,000 residents.
Nicholas Martin, a spokesperson for the BRA, said the ultimate purpose of these grants is to put Boston residents on pathways to career success.
"[The Mayor's Office of Workplace Development] has sort of refined their approach under the current administration not only to do job training. They want to put people on a career path," Martin said. "A job is different than a career. A career opens up the potential for lifelong success, where as a job might be a little more fleeting."
The city is appreciative to have quality organizations providing services to residents, Martin said.
"There are a lot of organizations that are doing great work and we're fortunate to have the funding to help support that and to help put residents on the path to career stability and on the path to their earning potential," Martin said.
East Boston Social Centers, one of the groups that received a grant, serves culturally diverse families and individuals of all ages through settlement houses, childcare, advocacy groups and free after-school programming. The Centers will receive $20,000 in funding through June 30, 2016, to fund programming and pay full-time staff, the release stated.
John Kelly, the executive director of the organization, said the Centers are moving toward using the money to help children achieve in school.
"Just broadening people's horizons so they define themselves as a person that's going to go to college," Kelly said. "We also have some kids who come to our program from the more violent neighborhoods of Roxbury and Dorchester who come to school at East Boston High School and stay here in the afternoon because it's safe."
Another organization that received funding is Action for Boston Community Development. ABCD serves over 95,000 low-income locals through its large span of programs, which all focus on upward mobility and higher quality of life.
Although ABCD received funding for its employment programs through the OWD grant, it lost funding for its after school programs, said Paul Creighton, the executive director of Allston-Brighton Area Planning Action Council, a former affiliate of ABCD.
"We've had to cut staff and serve less children. We tried to get them to change their minds, but they want to do things differently," Creighton said. "The priority should have been the after school program rather than employment."
Creighton said that although funding in one place was cut, the group is gearing up for expansion in the program's adult sector.
"We're going to do employment and income stabilization. We help people get resources. For example, we sign them up for food stamp programs, Medicare, Medicaid, VA [Veteran Affairs], whatever types of resources someone might be eligible for," Creighton said. "The idea is that we help individuals and families to increase household income. That's the bottom line."
Several residents expressed optimism that the money would go a long way toward helping Boston's neediest.
Ann Pantos, 33, of South Boston, said the grant money will simultaneously help people in need as well as the state's finances.
"Generating more jobs will help with the economy," she said. "I feel like there a lot of people struggling to find a job right now, so maybe [the grants] will help them."
Valerie Basnight, 31, of Quincy, has worked with nonprofits Hill House Boston and Youth Advocacy Foundation and said she approves of the grant money's intention.
"It's nice to see the city investing in its people," she said. "Anything that can kind of helps that wheel keep going, helping people afford the opportunity to work and put money back into the economy."
Markian Borkowsky, a senior in Boston University's Sargent College of Health and Rehabilitation Sciences, volunteered in a similar non-profit to those selected for funding, and said instead of giving grant money to these smaller programs, the government should be providing for its citizens on its own.
"What I found is that it would be a lot better of a situation if the systems were a lot more streamlined," he said. "The reason why we have an environment where you have to give to the private sector is because the public sector isn't going to provide those resources for the public."