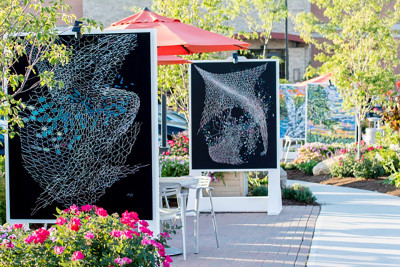 Empowering women by showcasing the artwork of local and international female artists, Chestnut Hill Square mall premiered "Art in the Square," a free, self-guided art exhibition in Chestnut Hill on Sept. 17. Since October is Breast Cancer Awareness Month, proceeds from the exhibit will be donated to the Beth Israel Deaconess Cancer Center and Surgical Pavilion in Needham.
Chestnut Hill Square partnered with AOTAart to curate the interactive community art installation, which runs through Oct. 17. AOTAart is a company that enables other companies to create engaging exhibitions that simultaneously promote their brand and distinguished artists, according to Alejandro Garcia-Amaya, the company's CEO.
"Our mission is to enable companies to create engaging, enchanting and empowering experiences for communities through the power of art," Garcia-Amaya, a 2007 graduate of Boston University's School of Management, said. "Art is a powerful vehicle that visually highlights culture — traditions, customs, beliefs, thoughts, ideas."
In order to celebrate women on a global scale and also raise cultural awareness, AOTAart selected six female artists from around the world whose works synergized with the concept of empowerment: Diana Stelin from the United States; Malini Mansukhani from India; Gladys Ortiz from Colombia; Marcela Carvhalo from Brazil; Guita Levy from Israel and Thidarat Chantuchua from Thailand.
Stelin, who holds a master's degree in arts administration from BU and owns an art school for kids and adults, was selected as the local representative for the exhibit.
"I went for opening night on Sept. 17," Stelin said. "It's a wonderful idea to have an outdoor exhibit that almost pushes people to take the time out of their day to stop and consider these works. Art in the Square demonstrates that women of all ages can take the time to create stunning work and honor [their] inner [selves]."
As a mother of three and a professional artist, Stelin said she recognized the importance of a woman being an independent individual.
"I think women take on the assumed roles they've been given over the centuries almost intuitively and don't give a second thought to how much of their true selves they give up in return," she said. "Empowering women is telling them that you're more than simply a mother, a homemaker, a sex symbol. Your thoughts, feelings and talents matter as much, if not more. If you give them up, then you're a tormented, unrealized individual who can't truly be a good, respected member of your family and society in general."
Stelin works with acrylics layered with a texturized medium of melted wax and oils. Her paintings at the exhibition are recreations of onsite watercolor sketches of nature. For Stelin, the painting process is inspiring as well.
"It's always tough to make yourself a priority, being a woman," she said. "There [are] so many societal pressures and therefore guilt trips about going into what truly warms your soul. The painting process is the process of empowerment to me. It allows me to honor myself, balance out priorities and have an honest conversation with my inner self."
Dalya Romaner, a freshman at Brandeis University, visited the exhibit and said she too believes that female empowerment is derived from inner truth.
"I think women's empowerment is all about being honest, really being able to be yourself and express yourself without holding back for fear of judgment, which these artists really embrace in their pieces," Romaner said. "I love Diana Stelin's artwork because she's very honest in [for example] the way she portrays the tree's flaws and unique looks."
As she strolled through the exhibition, Romaner said she was moved by its strength and the powerful message the artwork was able to convey.
"This art exhibit shows the unity of so many female artists from around the world," Romaner said. "While they use different techniques and subjects, they carry the same message of originality and raw characters, really showing the beauty in honesty. And that's very empowering."
Interacting and learning from the installations, as well as gaining a broader perspective and sense of inspiration, were major aspects of Art in the Square's vision. And to Romaner and Garcia-Amaya, these goals were met.
"We believe that when people interact with artwork and walk out having learned about the artist, who they are, where they're from, why that art inspires them," Garcia-Amaya said, "the more perspectives you understand [and] the more culturally competent you are, the better you get at establishing meaningful connections with them."