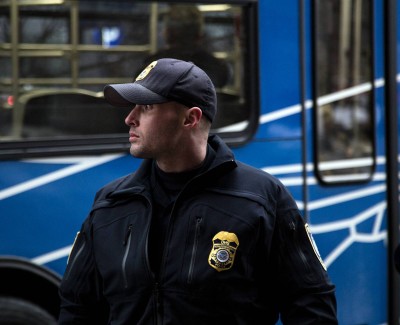 Following nearly a year of conversation between activism groups and state leaders, the Boston Police Department is closer to implementing a pilot program to test the use of body-worn cameras for officers.
"I've never said no … I just want to get it right so we're not wasting all kinds of money and we're not invading peoples' privacy," Boston Police Department Commissioner William Evans said in a Sept. 15 interview with Jim Braude on WGBH's news talk show Greater Boston.
Evans said he has been working with BPD's legal staff, unions and potential vendors to get the program started.
"I wish I could snap my fingers and it would happen tomorrow, but there's so many issues regarding privacy," Evans said. "There's so many issues on cost and hiring people. It's not an easy overnight fix."
Bonnie McGilpin, a spokesperson for Boston Mayor Martin Walsh, said the mayor shares Evans' sentiments about the use of body cameras.
"Mayor Walsh and Commissioner Evans agree that body cameras for Boston police officers could be a valuable investment in our police force," McGilpin said in a statement. "But they believe that body cameras are only one tool in police work, and do not address the fundamental problems of inequity in our communities."
Beyond body cameras, Walsh wants to focus on addressing inequality, strengthening community relations and building trust between residents and officers, McGilpin said.
Walsh first endorsed a body camera program for BPD last year, which came out of a national conversation about the deaths of several unarmed black men at the hands of police, The Daily Free Press reported on Dec. 11, 2014.
Segun Idowu, co-founder of the Boston Police Camera Action Team, said the group supports the pilot and appreciates Walsh and Evan's change of heart, but added that BPCAT members remain "cautiously optimistic."
"We again wanted to meet with them so we could offer our opinions on the fact that it should be a very extensive program where it should be up to a hundred officers that are wearing this or more, and they're not just in the black community," Idowu said, "because even though this is an issue that is spurring out of what was happening in Ferguson, [Missouri,] every community has to live with this."
Idowu said BPCAT worked on a general policy that can serve as a model for the rest of the nation, with ideas stemming from conversations with members of the community and law enforcement.
"The policy we produced is essentially something that responds to those concerns and we also feel is fair to the officer. We didn't want to create something just out of our emotional response to what we saw in Ferguson and Baltimore and Staten Island, [NewYork]."
Boston City Councilor Charles Yancey introduced the policy as an ordinance at an August City Council hearing, leaving it up for consideration and eventually a vote.
BPCAT also worked with the American Civil Liberties Union of Massachusetts to create a more specific body camera policy, which was released on Sept. 16.
Christopher Ott, a spokesman for the ACLUM, said working on policy and informing the community can play a role in whether a body camera pilot is finally put in place.
"In order for this program to work, it needs to have community support," Ott said. "Body cameras help promote accountability on both sides of the badge. Unfortunately we have seen incidents caught on camera, but [cameras] have helped bring people to justice and spread awareness. It goes both ways."
The Massachusetts State Police is also looking into body cameras, said spokesman Tom Ryan. A committee has been formed to consider their use, and the group will give their recommendation to MSP Superintendent Richard McKeon later in the fall, Ryan said.
Several residents said they look forward to a body camera pilot for BPD.
Yandara Botelho, 22, of Brighton, said body cameras can support both the police and whomever they are interacting with.
"It should be something natural or just an auxiliary thing," she said. "They should do their job the same way because for me the cameras are to help them do their jobs."
Carlen Lopez, 38, of the South End, said recorded interactions between the police and public can provide clarity.
"If you let it be known to the residents that police officers have body cameras, they will be aware that they're being recorded," she said. "It's not that it was a hidden camera or whether it was on. As long as you have awareness I don't see how it's invasion of privacy."
Lukas Posh, 20, of Brighton, drew parallels between the debates going on in Boston with those going on in his home country of Germany.
"I'm rather in favor of them," he said. "If the police behave correctly there's no consequences of behavior. The police stay anonymous as long as they haven't done anything wrong."