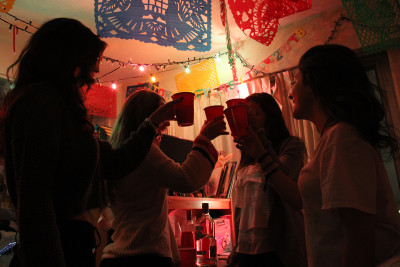 Beginning this semester, Boston University reinstated the fraternities Kappa Sigma and Delta Tau Delta as official university organizations after a suspension last semester.
During the suspension, the university dissociated itself from the fraternities until they had addressed and solved the issues that lead to the suspensions, said Dean of Students Kenneth Elmore.
"What we try to do is ask the group to address the specific issue and work with their national organization to do so," he said. "Once they've done that and they've demonstrated a plan for how they can address that and have shown us a plan on how they'll conduct themselves over the course of a semester, that is when we give some consideration to bringing them back on campus.
Last winter, Delta Tau Delta was suspended on two separate instances after BU received reports that the fraternity sponsored off-campus events without the university's approval where there were underage students drinking, The Daily Free Press reported Feb. 12.
Kappa Sigma was suspended due to the questionable promotion of a "blackout party," the FreeP reported Feb. 26. The fraternity was planning to host the party, using BU's name without approval and promoting excessive drinking and taking advantage of women.
"I am hopeful they will understand how objectionable this was," Elmore said in February regarding Kappa Sigma's suspension. "I hope beyond any anger they may feel at us removing our connections from them that they do something to figure out [how] a group of them, we're talking about a sizable number of them, could think something like this could be okay."
The university has decided to recognize the fraternities once again, but they both have a set of educational programs that they'll need to do internally for their own membership, as well as for the campus itself, Elmore said.
"[Both fraternities'] national organizations have spent time doing a review of the members of their organizations to look at leadership but also to look at members and make sure their attitudes and approach will be different," he said. "Basically, give us some assurances that we're not going to have to run into these problems with these groups again."
Now that both are again officially recognized as student groups through the Student Activities Office, the frats once again become part of the BU Interfraternity Council, said IFC President David Lugo.
Trip Jagolta, president of Kappa Sigma, said he is excited for the future of his fraternity.
"I'm incredibly proud of the progress the chapter has made over the last eight months," he said. "I look forward to continuing to grow as a chapter over the coming year."
DTD's and Kappa Sigma's national organizations declined to comment.
Several students said they believe fraternities should reform their actions if they would create harm to the BU campus and community.
Cathy Zhang, a freshman in the Questrom School of Business, said that Greek Life's small population at BU seems to contribute to the theme of togetherness, but they must be careful of their actions.
"If frats do dangerous or risky things, it doesn't create a safe environment for all of us to go to school," she said, "Everyone here should have a safe and welcoming environment. If my parents knew this kind of stuff goes on and frats might not get in trouble for it, they probably wouldn't let me come here."
Jake Crowley, a sophomore in the College of Arts and Sciences, said that the community of fraternities at BU has its benefits, although being in a fraternity is not for him.
"I don't care about the frats, but they can't cause a problem for students and create a bad name for the school," he said. "I don't think it affects me personally, but BU shouldn't get a bad name just because they are reckless. Administration should probably keep them on a short leash from now on to make sure these things don't keep happening."
Kelly Chhe, a freshman in CAS, said she thinks the way Greek Life is advertised can offend some people.
"Frats should definitely be held accountable for things they do even if not everyone hears about it, because if they don't then they will keep doing more and more harmful things," she said. "Maybe what's needed is a reform to an approval process for the things frats can and can't do, so these things can't happen at all."
Brad Ferber, a junior in CAS, said although there may be some incidents among frats, he thinks frats are a great way to meet people at BU, but not the only way.
"We are lucky to be in the city with plenty of other things to do so frats don't have that much of a hold on campus," he said. "So many people get caught up when they are in Greek Life, but if you're not you have plenty else to do."