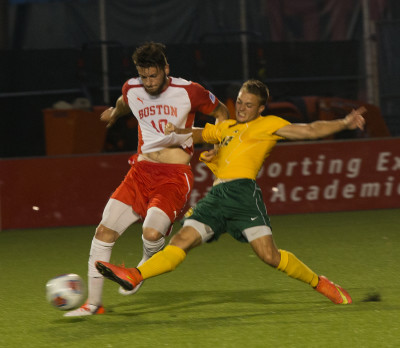 Injuries marred the Boston University men's soccer team last season, and early on in the 2015 campaign, it looks to be much of the same.
However, no matter how banged up this Terrier (4-2) roster seems to be, BU coach Neil Roberts' squad always seems to rise to the occasion and rally in spite of the injuries.
Thursday night's 3-0 victory against a formidable Harvard University team was no different.
"We've got one of the deeper teams that we've had," Roberts said. "We've got some guys on the bench that can play like today. We used them and they did a good job. We've got to get a little bit more depth on the flank, though."
The Terriers banded together last year and emerged as the regular season champions of the Patriot League despite having several key players miss time throughout the season. Among the missing were then-sophomore midfielder David Asbjornsson, who missed eight games, and then-junior defender Jeroen Blugh.
It was a balanced effort that helped propel BU to the top of the Patriot League last season, and although there is a great deal of roster changeover, the team is looking for much of the same this season.
Coming into Thursday's matchup with the Crimson (1-4-2), sophomore midfielder David Amirani was questionable following an injury he sustained in BU's 2-1 loss to Princeton University Sept. 19.
The Brooklyn, New York, native, who earned Patriot League All-Conference Second Team honors during his freshman campaign, is an unsung hero of the BU offensive attack. He did not see action until the 59th minute against Harvard, but at that point the Terriers had already taken control of the contest.
St. John's University transfer and sophomore midfielder Anthony Viteri continued his offensive onslaught, as he banged home BU's first two goals. After only scoring a single goal last season, Viteri has broken out in a big way — the two goals on Thursday give him five in six games.
Another breakout player for the Terriers against the Crimson was freshman midfielder Magnus Benediktsson. He made his collegiate debut against the Tigers (2-2) over the weekend, playing 47 minutes in the wake of Amirani's injury.
His play impressed Roberts, because when Amirani was not ready to go to start Thursday's match, he again went to the youngster. Benediktsson responded, assisting on Viteri's first goal in the 45th minute.
"Magnus is a guy, a lot like Anthony, that likes to go at the defense," Roberts said. "He likes to get the ball, he likes to go, and he's a good little player."
BU sustained another injury in the 26th minute when freshman defender Ben Valek went down. As has been the case with the Terriers, though, it was just a matter of having the next man up, and senior midfielder Richie Robinson came on and helped formulate a solid backfield.
BU fans collectively gasped in the first half when Blugh, who has battled injuries throughout his career, went down, but he managed to play a majority of the game despite being hobbled. That is the mantra for this Terriers team: bend, but never break.
BU will look to weather the storm of various injured players with their next task coming at home Sunday against conference foe Bucknell University.
"There's been some injuries, but people are just coming back and never giving up," Benediktsson said. "Like last weekend we go to Princeton, we lose. It's a tough blow but we come back and respond well. We take each game as it is, so now the next step is Bucknell."