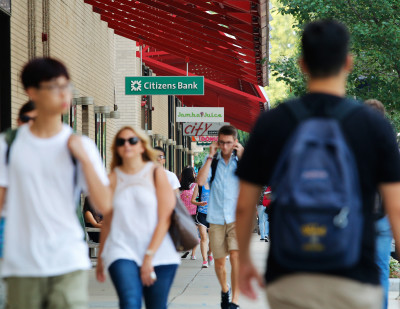 More than 25 percent of undergraduate female respondents to the Boston University Sexual Misconduct Climate Survey reported they have been victims of sexual assault while at BU, according to the survey's results, released Thursday. The survey was developed and implemented by a special task force appointed by BU President Robert Brown in July 2014 and was used to gauge the prevalence of sexual assault on campus.
The task force reviewed other institutions' available sexual assault climate surveys and related it to federal guidance, according to an introductory memo by Dean of Students Kenneth Elmore and Vice President for Administrative Services Peter Fiedler, the task force co-chairs. The survey was sent to 27,086 undergraduate and graduate students in March 2015 and received a 22 percent participation rate, with 5,875 students completing the survey.
The findings of BU's report are generally consistent with recent national statistics. The American Association of Universities, of which BU is a member, released the finding of their own climate survey on Monday, finding that about one quarter of female college students surveyed had experienced sexual assault. BU declined to take part in the AAU survey in order to create this more specific version.
The BU report stated that 18 percent of total respondents have experienced some form of sexual assault while at BU. As a result, the university plans to conduct another survey on sexual misconduct during the second semester of this academic year.
The report also revealed, however, that 94 percent of undergraduate respondents say they feel safe on campus. Female respondents, however, making up 68 percent of the total respondents, agree less with that statement than male respondents, by a margin of 3 percent. The report also stated that 23 percent of total female respondents reported sexual assault victimization, while 7 percent of males did.
In an email letter to students Thursday, Brown said the result highlights the university's need to redouble efforts to prevent further misbehaviors and reinforce "responsibility, mutual respect and trust."
"It is very disturbing that so many of the students completing the survey have experienced sexual assault," Brown wrote. "The survey results are an important element in our continuing work to improve our policies and procedures and the support we provide to students who have experienced sexual misconduct."
Results show that 22 percent of respondents do not believe BU provides a good support system, 27 percent said BU would not take action against a perpetrator or sexual assault and 25 percent believe BU would not take action to address the issues leading to the assault.
In response to these figures, Director of the Sexual Assault Response and Prevention Center Maureen Mahoney said students should be able to differentiate confidential and non-confidential sources.
"I would like the next climate survey to differentiate between confidential resources — SARP along with the rest of [Student Health Services] is one — and non-confidential resources that are part of the reporting process," she said in an email. "We continue to urge students to begin to learn the skills necessary to become engaged, pro-social bystanders by participating in Step Up Step In BU, our primary prevention program."
Additionally, the report states that the majority of incidents reported involved alcohol. Out of the respondents who had been victims of sexual assault, 78 percent reported to have been drinking at the time of the assault while 86 percent reported that their assailant had.
Sophie Godley, a professor in the School of Public Health and a member of the task force, said that it is "ridiculous" to not understand that sexual misconduct is often associated with alcohol consumption.
"I have every confidence that BU students are smart enough to hold two truths in their heads at the same time: that victims are not to blame for what's happened to them and that alcohol is playing a role," she said. "It's really hard to have a conversation about alcohol and not sound like you're being a jerk and not sound like you're blaming the people who get raped for using alcohol. I am not trying to do that at all."
Godley added that the survey also shows that there is more the administration can do to engage students and find a solution, because students are not just "waiting around."
Elmore said the results might cause a "tweak and change" to some of the current conversation points to better spark ongoing dialogue among students.
"What any individual student needs to do is to be able to look each other in the eye and make sure that there's firm sense of what your relationship is," he said. "That is really nuanced and subtle, but that is essential that we explore our relationships with each other, and certainly when we get to intimacy, people understand that intimacy is about communicating with each other."
Referencing the AAU's survey, Elmore said that BU "declined" to use AAU's survey to make its own results more relevant.
"I hope we can be a little bit more local and regional about it," he said. "This is one of the issues where if we get it right here at this university, I need for my colleagues who are dealing with the same type of population to also get it right at their institutions."
Several BU students said addressing sexual misconduct is not the complete responsibility of the administration, but should rather be a unified preventive effort from the BU community.
Moyra Richards, a sophomore in the College of Arts and Sciences, said that the results are "not really" surprising.
"In the extent that such a large amount of people have problems with rape or assault when alcohol's involved, I feel like this school has made it really clear you can't have sexual intercourse with a person if you both can't give consent," she said. "Everybody could of course do more … the school is trying and it's up to the students to be more supportive of their peers."
Jenna Selzer, a senior in the College of Communication, said people often assume someone is going to speak up when witnessing sexual assault, but rarely do so themselves.
"People feel that their voice isn't going to count when you see something questionable happening," she said. "I'm a little skeptical that any university would actually do something about it. As of right now, I don't know what BU is doing to prevent this and to address this. I don't know how policies are being implemented and I don't know if it's being implemented effectively."
James King, a junior in CAS, said college opens up a culture where dialogues regarding assault incidences are discouraged and those who have experienced such misconduct are stigmatized.
"You need cooperation from both parties. Ultimately it's the students that need to be proactive to take steps to change the culture but I think the administration can take steps to raise awareness," he said. "There's probably not enough conversation at BU and making people more aware that incidences does happen will empower people to be more vocal about it."