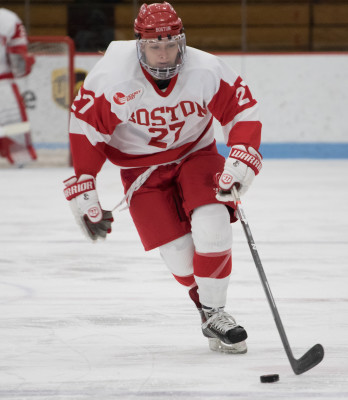 A coach is often content with two strong forward lines at his or her disposal, but early season signs allude to No. 8 Boston University women's ice hockey coach Brian Durocher having a far deeper forward corps than that waiting in the wings.
This was on full display Saturday, as BU took down the University of Guelph, 3-0, in an exhibition match at Walter Brown Arena.
Leading the way were tallies from junior forward Samantha Sutherland, senior forward Dakota Woodworth and junior forward Maddie Elia — all of whom tickled the twine in a seven-minute flurry of offensive might during the second period. Perhaps most remarkably, all three of the upperclassmen played on different lines.
"We talked about this before and anytime you can get scoring from more than one line, or ideally all three or four lines, that's a bonus," Durocher said. "There is real good depth and real good experience in our forward lines, so we have to take advantage of that and get scoring from a lot of different avenues."
Coming into the scrimmage against the Gryphons, many expected the majority of the scoring responsibility to fall on the shoulders of senior forwards Sarah Lefort and Kayla Tutino. After all, the duo was integral to BU capturing a fourth-straight Hockey East Tournament title last season, all while they combined for 87 points in the process.
Tutino and Lefort each nabbed assists on Saturday, but they were not the sole sources of offense.
Freshman forward Sammy Davis, who played at Tabor Academy in high school, led the Terriers with five shots. Before the Terriers erupted in the second period, Davis had the team's best opportunity. She drove down the left side of the ice in the latter stages of the first period, only to be stonewalled by Gryphon goaltender Stephanie Nehring.
"[The freshmen] really stepped up," Woodworth said. "We actually talked about that right as we went into the locker room. We were really happy with them and I hope they were happy with the way they played too. We said that they didn't look like freshman out there, which is great and really the only thing you want from a young class."
Another promising component of BU's forward depth is how many different classes showcase elite talent. Davis appears ready for a strong season, sophomore forwards Victoria Bach and Rebecca Leslie combined for 65 points last year, Elia and Sutherland shone on Saturday for the junior class and Lefort and Tutino provide unrivaled senior leadership and natural talent.
With all of that in mind, Durocher appears ready to reap the rewards of one of the deepest forward corps he has coached in years. There is top-end talent, freshmen rearing to kick-start their collegiate careers and many more prepared to showcase their experience in composed fashion.
"People like [senior forward] Jordan Juron and Dakota Woodworth have been around here, and [forward] Natalie Flynn is a junior," Durocher said. "When you have kids like that, as well as the couple groups of kids who were bunched up top, now you've got some tough decisions for us to make. You've got established players who played the first couple of lines [on Saturday], so good problems for me to have."
If all goes according to plan, forwards ranging from budding freshmen to experience-laden seniors should coalesce for BU in the near future. And the first real chance for that to happen will take place Oct. 2 against the University of Connecticut — a game that marks the beginning of regular season and Hockey East play.
"We knew going into it that we were going to have a really deep forward corps, and just to see it portrayed in the exhibition game right off the bat is awesome," Woodworth said. "It's really encouraging going into the regular season next week."