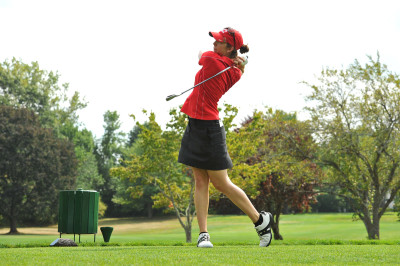 Women's golf places third at Dartmouth Invitational, Adela Cejnarova finishes second
Playing in its second tournament of the 2015-16 season, the Boston University women's golf team had a strong performance over the weekend at the Dartmouth Invitational in Hanover, New Hampshire.
The Terriers performed well both individually and collectively throughout the two-day tournament, with junior Adela Cejnarova finishing with the second best score of the weekend and BU finishing in third place overall.
Cejnarova, a Prague, Czech Republic, native, has already been awarded a number of accolades throughout her BU career. As a freshman in 2013-14, she was named Patriot League Rookie of the Year, and the following year, she won the Patriot League's individual title with a tournament-record score of 222.
In Hanover, she fired a 73 on Saturday and shot a one-under-par 71 on the final day of play, securing her spot as the runner-up for the tournament, finishing just one stroke behind University of Hartford's Brooke Nethercott.
Other Terriers had impressive weekends as well, with sophomore Phyllis Tang taking 11th place with a 154 (74-80), as well as seniors Maddy Silverman (76-85-161) and Emily Tillo (83-80-163) placing 27th and 33rd, respectively.
BU sat in second place with a 303 after the first day of play, but ended up falling to third place after Sunday's action. The Terriers finished with a 617, just one stroke behind the Hawks and 11 shots ahead of the next closest team, University at Albany, SUNY.
Women's tennis impresses at Brown Invitational
Following a strong showing at the Harvard Fall Classic Sept.18 to Sept. 20, the Boston University women's tennis team continued its fall schedule with a few key individual performances at the Brown Invitational in Providence, Rhode Island, over the weekend.
Brown University, St. John's University, Stony Brook University, Rutgers University and the University of Massachusetts Amherst joined BU at the three-day weekend tournament.
Both freshman Sabrina Faybyshev and senior Lauren Davis advanced to their respective singles flight championship match over the weekend.
Davis, who was named to the Patriot League 25th Anniversary Women's Tennis Team before the start of the season, impressed in the Terriers' first tournament of the 2015 campaign in Allston Sept.18 to Sept. 20.
She and Faybyshev had one of the team's most impressive victories in doubles action against Harvard University's Erica Oosterhout and Annika Ringblom.
This time, though, it was Faybyshev who took center stage. The Marlboro, New Jersey, native went a perfect 3-0 with straight set wins over Rutgers, St. John's and Harvard.
Davis began with victories over St. John's and Brown, but fell to Stony Brook's Elizabeth Tsvetkov in a 7-5, 6-4 loss.
BU has a week off to prepare for the upcoming Yale Invitational, which begins Oct. 9 in New Haven, Connecticut.