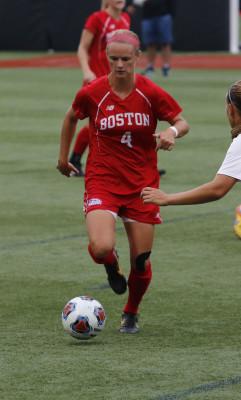 The Boston University women's soccer team has turned its season around recently.
After a draw with American University on Saturday, the Terriers (3-4-3, 1-0-1 Patriot League) are now unbeaten in five straight matches, managing all three of its wins at home on Nickerson Field.
"Historically, Nickerson has been a strong place for us to play," said BU coach Nancy Feldman. "We train on it every single day. It's comfortable and familiar to us. There is an added motivation of protecting our home turf."
With a 3-0 record within the friendly confines and a 0-3-3 away record, where the game is played has made a big difference for the Terriers.
Terriers' offense steadily improving
Though they drew with American (3-6-1, 0-1-1 Patriot League) on Saturday, the Terriers have been playing well collectively and have found a nice pace on offense, as they have totaled 34 shots in their last two games.
While a tie does not bring the same elation as a win, outshooting the Eagles 20-5 is telling of the Terriers' mentality thus far, as they are averaging a healthy 12 shots per game this season.
"As the season goes on, the team is getting more comfortable with organization," Feldman said. "There has been more of a commitment to keeping the ball in the final third."
"It takes great teammates to know when to trust each other and limit their [opponent's] touches," Feldman added, "but there's also those 'go' moments, when they need to be aggressive and create their own shots, and we have been progressively been getting better at that as the season goes on."
Underclassmen prove vital for BU
Enough cannot be said for how well the Terriers' underclassmen have been playing. In fact, they have accounted for 15 of the 30 points scored by BU this season.
Sophomore defender Erin Neville has scored a goal in both of BU's last two contests, the first two of her career. Her goal against American on Saturday was the crucial equalizer in the 88th minute of a hard-fought, double-overtime game. Freshman forward McKenna Doyle has also been a crucial addition to the Terriers, as she currently leads the team in points with five.
"McKenna and Erin work very hard, as do all of our younger players who are adapting," Feldman said.
Neville, who played in 18 games last year as a freshman, seems to have found her niche as an important piece to this Terriers' team. Despite playing on defense, she has showcased her offensive ability, which has proven vital for the Terriers.
"It starts with our core players, our older players who have set a really high standard," Feldman said. "Our young players know how to take care of business on and off the field. They have a grit to them."
Feldman acknowledged that there is always room for improvement, even though the team is playing well recently.
"I'd like to see us hit the frame more," Feldman said. "I'd like to see us move the goalkeeper and get her down on the ground. That's the focus for the next couple of games."
Feldman also highlighted her team's composure in close games.
"We need to be a hair more composed and keep our speed," she said, "but be more calm in those goal-scoring opportunities."