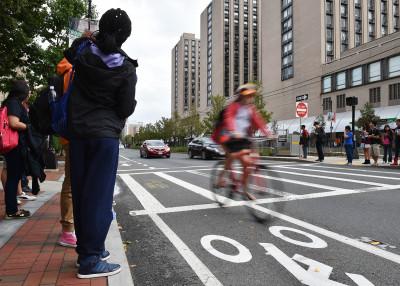 Focusing on revamping city planning, Boston Mayor Martin Walsh announced an environment and safety-focused design plan on Sept. 24 called Complete Streets that will soon take effect through an executive order.
The program, established by former Boston Mayor Thomas Menino in 2009, was created in an effort to make the city more environmentally conscious with new technologies.
Addressing the Greater Boston Chamber of Commerce on Sep. 24, Walsh said Boston's development has been guided by fairness and transparency and that the vision for the city must continue to center around its citizens.
"It's about how we will live and how we will relate to each other," Walsh said. "Planning can't unlock a vision unless it mobilizes the community that can build it together."
Walsh highlighted the importance of easing street congestion and quelling danger through street design, stating that Complete Streets would create fluidity between all means of transportation.
"Complete Streets is a nationally recognized approach for balancing public space among cars, transit, walkers and cyclists," Walsh said. "It's that balance we need, to make our streets flow better, and function better as we grow."
Walsh also put emphasis on how vital it is for the people of Boston to ask what they can do, personally, to help make transportation safer for all citizens.
"Everyone who lives and works in Boston should be asking: what can we do right now, to put our city in a position to thrive? For one thing, we have to make sure everyone gets the opportunity to thrive," Walsh said. "The way we move around our city matters. It affects our productivity. It affects our quality of life and our environment. It affects our safety and our sense of community."
Complete Streets strives to improve Boston's streets by altering aesthetic and physical landscapes surrounding them, the website stated.
Vineet Gupta, director of policy and planning at Complete Streets, said the initiative aims to accommodate citizens who walk, ride their bikes, take public transit or drive.
"It's a set of design guidelines that ensures that this equitable accommodation is achieved," Gupta said. "Any street that the city is looking at, analyzing or reviewing for a new design has to impress the complete design's approach."
Complete Streets' objectives are to ensure that Boston streets are green, smart and accessible to multiple modes of transportation, according to the website.
Gupta said being environmentally aware is the ultimate goal in implementing the plan. Complete Streets will ensure that enough are trees planted and will guarantee safe travel for pedestrians and bicyclists, he said.
"[Trees] not only provide shade, but feed on rain water and just create a healthier environment," Gupta said. "We make it easier for pedestrians and those on bicycles to be on our streets via the cycle or bicycle lane or track."
Several residents said although wider bike lanes could make them more inclined to use bikes to get around the city, the current bike lanes encourage accidents.
Joseph Alvarez, 24, of Dorchester, said despite the numerous bike paths already in city streets, the addition of less dangerous paths would make Boston even more bike-friendly.
"I'm not a huge biker, but I do bike from time to time," he said. "It would be nice to add more lanes and potentially increase safety, and here on Commonwealth Avenue there's usually a lot of accidents with bikers so anything to stop that [would be welcome]."
Stephanie Braman, 24, of Kenmore, said implementing wider bike lanes would make navigating through busy streets, like those of Kenmore Square, safer.
"As someone who rides around on the streets all day, all the time to get to work, school and home, more protected lanes would be really useful," she said. "There are so many more cyclists now than there were when I got here in 2009, and making these changes would be a plus for a lot of people."