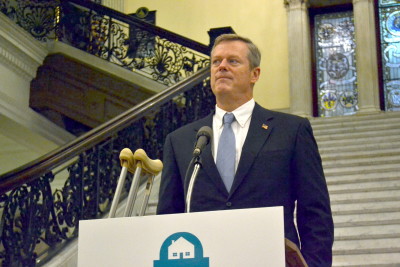 Aiming to reduce the misuse and abuse of prescription medications in the Greater Boston area, anti-drug organization Safe Homes Coalition launched a program Wednesday to help combat the opioid addiction epidemic in Massachusetts.
The Safe Homes Coalition's Keep Kids Safe Program, in partnership with the Greater Boston Association of Realtors and the non-profit organization Learn to Cope, will distribute re-sealable plastic bags to real estate professionals and public health figures to secure and dispose of unused or unwanted medications.
"The Safe Homes Coalition brings together organizations throughout the Commonwealth to help eradicate this epidemic," Gregory Stein, executive director of the coalition, said at a Wednesday press conference at the Massachusetts State House. "We need to prevent prescription medications from getting into the hands of people who shouldn't have them, especially those most vulnerable, our children."
The program intends to educate and empower people to safely use, secure and dispose of unwanted medication, Stein said, because easy access to prescription drugs is a major part of the problem. The National Institute on Drug Abuse reported that the vast majority of misused drugs, more than 70 percent, is obtained from medicine cabinets, he said.
Massachusetts Gov. Charlie Baker spoke about statewide efforts to reduce the number of overdose deaths and curb the addiction epidemic. He stressed the continuation of his legislative efforts to aid in the prevention, intervention, treatment and rehabilitation of prescription abuse, particularly among teenagers.
"The attention and work the medical community, law enforcement, public health officials and officeholders are bringing to the table is an essential step towards addressing this issue," Baker said at the conference. "We must consider creative and practical solutions like that proposed by the Safe Homes Coalition to impact change."
Other state leaders including Massachusetts Attorney General Maura Healey and Boston Mayor Martin Walsh attended the conference and offered remarks about how the coalition can help address drug abuse.
Sandro Galea, dean of Boston University's School of Public Health, shared his support for the program.
"The opioid epidemic is one of the defining public health problems of our time," Galea wrote in an email. "Curbing the opioid epidemic will require cross-sectorial work involving government, industry, and health care providers. The Safe Homes Coalition Program is a very good step in the right direction."
Richard Saitz, a professor in SPH and chair of the Department of Community Health Sciences, said though the program is an adequate short-term solution to the misuse of prescription medication, he worries it is just "a small piece to the puzzle."
"There are people who suffer from substance abuse disorders who need treatment, which is not easy to do," Saitz said. "There are people who aren't aware of the risks of using prescription drugs and there is more that needs to be done to try to get to the root of this condition. We must not treat this problem in a punitive way, we need to treat it as the health risk and condition that it really is."
One-third of teens say they believe "it's okay to use prescription drugs that were not prescribed for them to deal with an injury, illness or physical pain," according to a pamphlet provided by the Safe Homes Coalition at the conference. More than 43 percent of teens indicate prescription drugs are easier to obtain than illegal drugs, the pamphlet stated.
Several residents expressed relief that there were projects taking place to help curb the epidemic.
Luke Baran, 34, of Beacon Hill, said prescriptions should be more closely regulated in order to avoid addiction problems.
"The government should closely regulate who is getting prescriptions and how easy they are to refill," he said. "They shouldn't allow exceptions beyond the dosage that is allowed, even if patients are using up the medication too quickly."
John Shafranski, 34, of Allston, said pharmaceutical drugs are much too available to the public.
"Prescription drugs [are] widely and legally available to the public and they are given out to people who shouldn't have them, who keep them despite not using them," he said. "This is a huge issue because it leads to the abuse of medication, turning prescription drugs that were legal in the first place, illegal because of misuse."