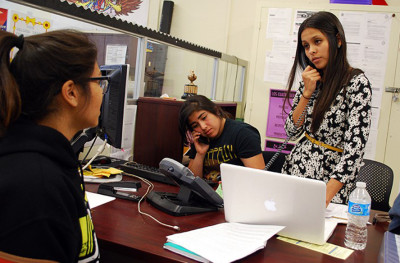 Boston University will serve as a host to the College Advising Corps in Boston, in the hopes that a greater amount of students will be able to attend college, the university announced during a conference Monday. This three-year collaboration marks the first partnership between BU and CAC, said CAC CEO and Founder Nicole Hurd.
Working to increase the rates of college enrollment and completion among low-income, first-generation and underrepresented high school students, CAC currently has 23 advisors, three of whom are BU graduates, working with students in 24 Boston public schools, Hurd said. The organization places young college graduates in public high schools as advisors.
The partnership also helps fundraise in order to prolong the three-year contract, Hurd said. State Street and the GreenLight Fund have already invested in this program prior to the BU partnership, Hurd said.
CAC plans to extend its work to schools in the Greater Boston area, Hurd said. She said she is excited to partner with BU, since the university expresses a "great tradition" of services that prioritize impact and excellence.
"Our goal for our partnership is to ensure that every student in the Boston public schools has access to a great post-secondary education," she said. "We're really excited to be partnering with BU to make sure that all students have a post-secondary opportunity."
Hurd said that she is attracted to BU's "phenomenal quality" as a city school.
"BU's already got great relationships in the Boston public schools and CAC already has really strong relationships with the Boston public schools," she said. "The idea that all kind of three entities will be working together is incredibly exciting."
BU spokesman Colin Riley said BU is eager to coordinate, train and recruit CAC advisors that will serve in public schools, and hopes it makes a difference in the community.
"One of the key things is that it emphasizes and reinforces our commitment to the city of Boston, because that's what these students are, these advisors are, and what the beneficiaries are," he said. "[The partnership] certainly leads to opportunities for low income and underrepresented students."
Riley added that this program will open doors to students who have not thought of attending a university because of the "daunting process" of applying for college and financial aid.
"It's more realistic when student individuals who've gone through it and succeeded, who are willing to meet them in their house school," he said. "It's a terrific program and we're extremely proud to be part of that."
Several BU students said they support the partnership, because it would increase the potential of educating more students and create opportunities for those who deserve it.
Arlin Moore, a freshman in the College of Communication, said he has seen the benefit of having a counselor to prepare for college.
"I can't imagine what it would've been like or how stressful it would've been to do it on my own," he said. "For low-income students, being able to have guidance counselors is really useful."
Parker Doyle, a freshman in the School of Hospitality Administration, said that although the partnership has the potential to make a difference, decreasing college tuition or providing scholarships through this program would have a bigger impact on low-income students' application rate.
"[Low-income students] don't really want to go to college because they can't pay for it," he said. "Not everyone can get that same scholarship opportunity, so if they don't get the scholarship opportunity, they probably won't be able to come to college."
Karen Rodriguez, a freshman in the College of Arts and Sciences, said that BU gives its students the tools they need so that they can be involved in social justice, which shapes them into aware individuals.
"BU is one of the most expensive universities around the country," she said. "Having the chance to be in contact with different students from different backgrounds will give us a more rich environment, [and] rich perspective of the world."