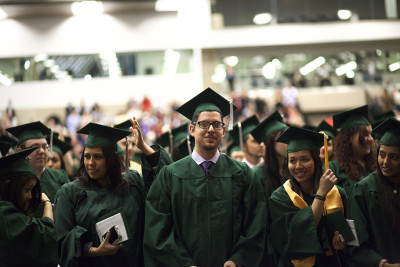 Half of U.S. college graduates do not think that their education was worth the cost, according to a Tuesday report released by Gallup and Purdue University. The Gallup-Purdue Index 2015 Report stated that only 38 percent of alumni that graduated between the year 2006 and 2015 thought they had a financially valuable college education.
Based on a survey of more than 30,000 U.S. college graduates from Dec. 14, 2014, to June 29, 2015, the report stated that one of the causes of the decline in cost-worth assumption is the alarming tuition increase in recent years.
With tuition "rising at nearly three times the rate of inflation in recent years, and the total amount of outstanding student loan debt in the U.S. [growing] to over $1.2 trillion," recent graduates are more likely to take on more undergraduate debt to obtain their degree, the report noted.
The report stated that only 26 percent of respondents strongly agree that going to a private for-profit university was worth the cost, compared to 47 percent of those who went to private nonprofit universities and 50 percent of respondents who attended research universities.
In response to the results, Boston University Dean of Students Kenneth Elmore said he thinks that the better question to ask is whether students fully utilize the resources colleges and universities provide.
"Have you really thought about what you want to be and who you want to be when you've completed that experience?" he said. "I think [college] probably saved my life. I think I'd be in a very different circumstance had I not gone to college. Not everyone is going to have that experience, but I certainly think there are plenty of people who will do well by that."
Elmore also said that BU students should get everything they can out of college by getting involved inside and outside of the classroom.
Jay Halfond, a professor of education in the Metropolitan College, said that "human factors, faculty accessibility and student engagement in curricular and extracurricular activities" are significant to students' college experience.
"For large universities, this is a reminder that bigness doesn't excuse an institution from providing the individualized experience students need to take in to their future lives," he said in an email. "[College] is about personal growth, relationships, experiences and broader wisdom."
Several students said the main reason why graduates might think their college education is undervalued compared to the cost is high tuition.
Danica Derriennic, a freshman in the College of Arts and Sciences, said she hopes she'll have a valuable college career and that by the time she graduates, she will have had opportunities that make the cost worthwhile.
"Going to college is worth it no matter what, but for the amount of money that you're spending, I can understand why people would be kind of upset," she said. "When you're $200,000 in debt, your English degree might not seem too useful."
Kyra Tantao, a sophomore in the College of Fine Arts, said she is torn between the high quality education she receives at BU and the high cost of tuition.
"I'm getting so much out of this program," she said. "I'm going to come out of school with a lot of skills that are really important to my field, but I also think it's going to be really hard to pay off all the money that I've spent to go here."
Sady Cohen, a junior in CAS, said that he previously thought it was offensive to view a college education unworthy of the cost, but said "it might actually be true," referencing the report's results.
"With the way the job market looks right now, I don't think [the cost is] worth it because I'm spending more on education than I'll gain in the next five years or so," he said. "Universities should teach more about the outside world apart from being buried in books. "