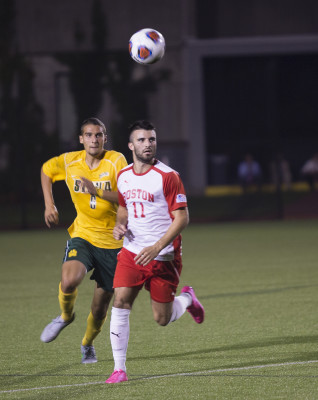 Continuing a stretch of dominant play, the Boston University men's soccer team bested American University 1-0 in the nation's capital Saturday afternoon in its second league game of the year.
The Terriers (6-2-1, 1-0-1 Patriot League), playing in their second straight game under wet and rainy conditions, responded well, extending their unbeaten streak to four games. More notably perhaps is the fact that Saturday's victory extended BU's unbeaten streak in conference regular season play to 11 games, the longest such streak since the team went 10-0-2 in conference play during the 2001-02 seasons.
BU coach Neil Roberts was impressed with how well his team responded against a strong opponent like the Eagles (6-4-1, 0-2 Patriot League), who were nationally ranked just a few weeks ago.
"We're seeing that especially with this group, they're definitely mentally tough," Roberts said. "It was a very difficult game yesterday, physically as well as mentally, and these guys can grind it out. They physically demand a lot of themselves, and they did a really good job."
The difference-maker in this one was an early goal from junior forward Felix De Bona. In the fourth minute of play, freshman midfielder Adam Wright sent in a cross for De Bona, who finished for his fourth goal of the year.
De Bona is now second on the team in both points (9) and goals (4). Sophomore midfielder Anthony Viteri leads the team in both points and goals. His 12 points on the year place him in the top five in the Patriot League in scoring, and he is first in points per game with 1.33. De Bona finds himself ranked eighth in the conference in both of those categories.
The Somerville native has come on strong in his junior campaign, having only tallied nine points total through 20 games last season.
Another critical development in this game was the continued success of junior goalkeeper Matt Gilbert. Recording his fourth shutout of the season, and second in as many games, Gilbert stood tall in net for the Terriers, stopping a season-high eight shots.
"Yesterday's game was challenging for him because he had a stomach bug which made it difficult," Roberts said. "We didn't know if he was going to play the second half, but again mentally he just gutted himself through it. It was a weird game for him because it was windy and rainy, which is always tough for a goalkeeper, but he just dealt with it which was good."
Gilbert's first save came in the third minute off junior Joe Iraola's shot, after which the Terriers came storming back for the game's only goal. Gilbert recorded three saves in the first half, but came under a lot more pressure during the final 45 minutes of play.
In the 55th minute, Gilbert slid over to make an impressive kick save off forward Joel Hart's shot. Hart is second on his team with nine points on the year, behind senior Liam Robley who paces the Eagles and the Patriot League with 14 points.
"[Gilbert] made two really big saves," Roberts said. "They had a lot of shots, and he was good off his line, but the two that he had to make were very sharp, especially under the weather conditions, the outside conditions, and the way he was feeling."
Gilbert continued his stellar play in goal for the remainder of the game, making a quality leaping save in the 79th minute and catching a 25-yard free kick in the 85th minute. He was aided by his backfield though, which has been crucial to the Terriers success as of late.
Senior defender Jeroen Blugh was recognized for his efforts this week, acquiring Patriot League Defensive Player of the Week honors Sept. 28. It marked the first such award for the Trinidad native and the fifth for the Terriers this season, speaking to their depth and versatility on the defensive side of the ball.
It comes as no surprise, though, that these two teams played 90 minutes with just one goal being scored: Eagles goalkeeper Dylan Hobert owns three shutouts on the season and the last meeting between the two Patriot League foes ended in a 0-0 double-overtime tie last November.
Despite scuffling as of late, losing four of their last six games, the Eagles had started the season the 5-0, and Roberts noted that any conference win is an important one.
"It's a tough place to play, number one, because they're a good team," Roberts said. "They have a very good attacking team so we knew it would be challenging for sure. I felt going into the game that against non-conference opponents they were playing best of anybody. They played a difficult schedule and did very well against good teams, so we knew it would be tough but credit the guys. They're up for every challenge."