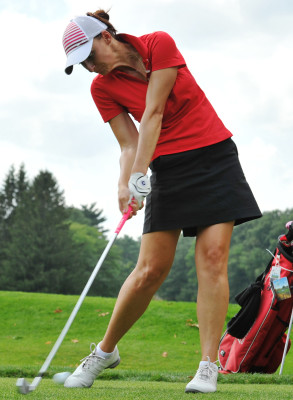 Amid wet and rainy conditions, the Boston University women's golf team finished fifth at the Forest Oaks Fall Classic hosted by the University of North Carolina at Greensboro this weekend.
This was the Terriers' third tournament of their 2015-16 campaign. The scheduled 54-hole, three-day event was cut short due to weather conditions worsened by Hurricane Joaquin. The nine teams that participated in the event played just one round on Friday in Greensboro, North Carolina.
As a team, BU finished fifth on the day with a score of 309, 13 shots behind first-place Winthrop University and seven shots behind fourth-place James Madison University.
Winthrop sophomore Ashley Sloup won the event with a one-under-par 69. The highest finisher for the Terriers was junior Adela Cejnarova who finished in seventh place with a 74.
Cejnarova, who finished with the second-lowest score at the Dartmouth Invitational on Sept. 26 and Sept. 27, is having quite the season. The Prague, Czech Republic, native was recently named Patriot League Golfer of the Month, averaging a 76 over five rounds through the month of September. This marks the fourth time in Cejnarova's career that she has won the award.
Sophomore Phyllis Tang also had a strong showing Friday for BU, finishing tied for eighth with a 75. Freshman Megan Carter (80), senior Emily Tillo (80) and senior Maddy Silverman (84) were among the other Terriers with notable finishes under the harsh conditions.
BU will take the course again next weekend at the three-day Yale Invitational for its fourth tournament of the season.