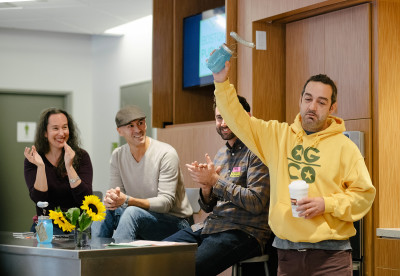 Amidst the smell of hot cider doughnuts and fresh coffee at Boston Public Market, a community of fermenting enthusiasts gathered to share their passion Sunday at the third annual Fermentation Festival. The event featured dozens of speakers and demos from small fermenting businesses. Though many people simply wandered in for free samples and interesting talks, the festival emphasized something much greater.
The sustainable growth culture that has gained support throughout the country has materialized in farmers markets, healthier food options and now, fermentation festivities. Not only has it developed into an environmentally friendly movement, but it has also characterized a change in culture, said Ronn Friedlander, co-founder of Aeronaut Brewing Co.
"People are increasingly interested in more sophisticated flavors," Friedlander said. "They want fermented flavors, things that are not necessarily fresh and clean tasting, but interesting, like sour or smelly."
The festival had booths set up throughout the market, including a reading room for authors and book signings, a Pickle Off competition, a corner for information on the science behind fermenting, an area to make sauerkraut and several fermenting vendors.
Though this was only the third year of the Fermentation Festival, the size of the crowd and its level of excitement were anything but small.
According to many of the vendors, the level of interest in fermentation has increased drastically in the past few years. This is possibly due to the diversity of people it attracts.
"A lot of people are interested in fermentation from different walks of life," said festival founder Jeremy Ogusky. "There are a lot of people who are interested in the health aspects, like nutrition and probiotics. There are a lot of people who are interested in preserving things … Then there's a lot of people who are really into taste, the chefs and foodies who love new flavors."
Although many people don't know much about fermentation past beer and cheese, the curious and enthusiastic community created a welcoming, creative space to explore the depth of fermentation.
In the Fermented Reading Room, visitors enjoyed book signings, various cookbooks, posters and homemade cards. Later in the day, many of the authors also led presentations as part of the speaker series to further discuss fermentation philosophies.
In Hopsters Alley, a liquor store in the Market, mead and beer tastings were also popular. Crowds of people patiently waited for a sample of the refreshing flavors — blueberry blossom honey, lemonade, passion fruit and strawberry basil, all locally brewed.
In the Science Corner, microscopes and petri dishes decorated the tables. Biologists, home brewers and researchers exhibited their products to promote healthy bodies and environmentally friendly practices.
While these activities and fermentation brought many people closer to nature, some companies present at the festival chose to look at fermentation from a health-related perspective.
AOBiome focuses on protecting skin by restoring the beneficial bacteria on bodies. With all of the soaps, shampoos and creams people use, many of their bodies are losing too much bacteria, said Spiros Jamas, CEO of AOBiome.
"We're rebalancing our skin micro biome," Jamas said. "There's an environmental aspect too … You need to use a lot less [chemicals]."
In addition to AOBiome, fragrance company Ginkgo Bioworks also looked fermentation in an unusual manner. By breaking down the process that plants go through to produce scents, the company has figured out how to get yeast to do the same. At the festival, a few examples were displayed — a bakers' yeast that was manipulated to produce a grape-rose scent and a salami yeast that had a peach-caramel sweetness, among others.
"The same approach can be used for things that we right now use plants and huge fields and a lot of water for," said Yakov Pechersky, an organism engineer at Ginkgo Bioworks.
This environmental aspect of fermentation is potentially the next step in creating a greener earth. The growing community of fermenters has opened up countless opportunities for the rest of the world, whether it's an adventurous change in palates or environmental progress.
"People are excited about food and excited about wanting to be more connected to the natural world as we learn more about climate change," said Christina Agapakis, creative director of Ginkgo Bioworks. "We're becoming more aware of what's going on in the environment, more aware of our surroundings and the biology of our own bodies."