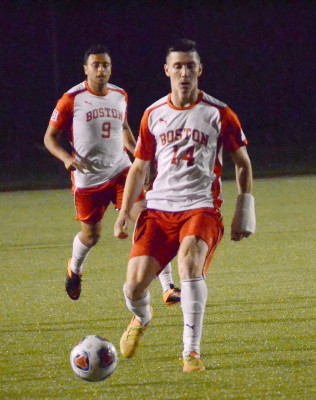 The Boston University men's soccer team will travel to Hamilton, New York, to take on Patriot League foe Colgate University on Wednesday, looking to extend its unbeaten streak to five games.
The teams are heading in opposite directions entering Wednesday's contest. After upsetting nationally ranked American University in September, the Raiders (4-4-1, 1-1 Patriot League) have lost their last two games, and are looking to get both their overall and conference records back above .500. Meanwhile, the Terriers (6-2-1, 1-0-1 Patriot League) are riding a two-game winning streak and have not lost in over two weeks.
The Terriers have had more success on the offensive side of the ball through the first part of the 2015 campaign than the Raiders have. For the season, BU is averaging 1.56 goals on 13.4 shots per game, while Colgate is averaging 1.11 goals on nine shots per game.
This matchup will come down to which team can play better defense. Both squads have been outshot by their opponents this season, and each side will look to establish possession and prevent scoring chances for the opposition.
The Raiders have been shutout in their past two losses, so look for them to come out attacking in hopes of breaking their scoring drought.
The Terriers' backs will need to keep their eyes on Colgate forward Ethan Kutler. Kutler leads the Raiders in every major offensive statistical category. The junior out of Lansing, New York, has scored four goals, assisted on three others and has compiled a total of 11 points on the season. No other Colgate player has more than four points thus far. Kutler is active in the box and with the ball, averaging over three shots per game.
"You've got to deny him the ball and make sure he doesn't get the ball [in a position] to run at you," said BU coach Neil Roberts. "He is very good when he gets into the open field, so you've just got to keep things tight."
Containing Kutler is no easy task, but it certainly helps BU that junior goalkeeper Matt Gilbert is playing his best soccer of the season right now.
The reigning Patriot League Goalkeeper of the Week has made 42 saves thus far, good for first in the conference. The Madison, New Jersey, native picked up another accolade on Tuesday, after being named National Soccer Coaches Association of America College Player of the Week.
Gilbert won the award in part due to his strong showing on Saturday at American (6-4-1, 0-2 Patriot League), where he notched his fourth shutout of the season. Gilbert has only surrendered one goal in the past four games, and that tally came on a penalty kick.
In addition to Gilbert, BU's defense is anchored by strong veteran leadership, notably Patriot League Defensive Player of the Week Richie Robinson. The senior midfielder earned his first career Patriot League weekly award for his efforts in the previous two games, which have been shutouts for the BU defense. Robinson played all 90 minutes in those games, as he was relied upon heavily with freshman back Ben Valek recovering from an injury.
"Gilbert has been playing well in goal," Roberts said. "Collectively, the team has been playing better in front of him defensively. Richie Robinson and [sophomore midfielder] David Amirani have been really helping out the back three, which makes it easier for them to defend."
The Terriers offense continues to be led by sophomore midfielder and St. John's University transfer Anthony Viteri. Like Kutler, he leads his team in every major offensive statistical category this season. Viteri's 12 points put him in third place in the league, with Kutler not far behind in fourth.
Helping Viteri lead the offensive charge will be junior forward Felix De Bona. De Bona has the second-most shots, goals and points for the Terriers. The Brazilian-born forward scored the only goal in Saturday's win, where he continued to be aggressive with the ball and applied pressure to the Eagles' defense.
BU is looking to beat Colgate for the third straight year. The Terriers won the previous two games by a combined score of 5-0, including a 3-0 shutout on the Raiders' home field two years ago.
With the bulk of its Patriot League schedule remaining, Roberts is confident in his young squad.
"They're doing well," Roberts said. "They work hard, they train hard, and it's showing in their progression. They're not near where we need to be if we want to win the championship, but we're getting there. … If we continue to keep advancing like we are, it will be a lot of fun."