It's about an hour before Boston University is set to face Acadia University in an exhibition game, and Robbie Baillargeon is alone on the BU bench. He looks around the ice, but avoids conversation with any of the passing team managers or trainers. The Agganis Arena speakers blare Top 40 hits and the BU fans begin to fill the stands, but Robbie isn't distracted.
He stares ahead silently, backward BU hockey cap on his head, his face showing no discernible emotion. He acknowledges no one, and nothing but his own thoughts as he prepares to open the 2015-16 season.
What are you going to do in the first period? He puts himself in game mode.
The second period? He pictures a good play, a good pass.
The third? He lays out the whole game in his head, period-by-period, play-by-play.
Robbie has always been a person who envisions his dreams and plans — "He's always known where he was going to go," says his mother, Maika. Moreover, he's quiet. He's not an openly emotional person. He's stoic. He's thoughtful, considerate, not one to talk trash or begin a fight on the ice. He keeps to himself, stays in his own thoughts. He's humble, too. He doesn't like to brag or disclose his goals, but he knows what he wants.
He's driven, and he's a visualizer, and that has always worked in his favor. But this past season, it didn't go how he envisioned.

---
In Robbie's first year playing for the Terriers in 2013-14, he recorded 27 points, and was named to the Hockey East All-Rookie Team. The short version of the story is that Robbie was BU's leading scorer as a freshman, and then, a year later, in 2014-15, he wasn't.
The longer version of the story is a bit more complicated than that.
---
Bob Baillargeon can tell during the team's warmups whether his son will have a good game. He was Robbie's coach from when Robbie first started skating until he reached high school, and has a vision of Robbie's stride and strength unlike anyone else.
To begin his sophomore season, Robbie battled a sore throat that just wouldn't go away. It wasn't anything new. Robbie was born 10 weeks premature, so his immune system has never been perfect. He takes all the right vitamins and eats all the right foods, as guided by Maika, who's a nurse. (A nurse and a hockey coach is the perfect set of parents, Robbie notes.) Still, every year, Robbie gets sick. It usually takes him longer than most people to recover from common illnesses.
So every year, just in case, Robbie gets tested for mononucleosis.


Robbie scored the first goal of BU's 2014-15 season. All was poised to be yet another stellar season. But Bob could tell about two or three games in that Robbie's shifts were shortening, he wasn't up to speed.
Over the next six games, Robbie descended into the background. He couldn't win battles in the corners, he couldn't stay steady on his skates. He had just one point — an assist — in that six-game span. He didn't complain, he just put his head down and kept playing. No excuses.
Maybe it was just a slow start, maybe it was just a slump.
But for the first time, the mononucleosis test came back positive. They had the answer, at least, but there wasn't much that could be done besides resting, hydrating and taking the right medications. Some days, his coaches told him not to bother even coming to the rink. He missed the next nine games.
---
As Robbie watched from the sidelines, BU grew better. In the year Robbie led his team in scoring, the Terriers only mustered a 10-21-4 record. By the time Robbie returned to playing in January, his team had already surpassed that win total — 11-3-2.
But even as he sat, Robbie took solace in BU's success. Even if his year wasn't going well, he always put the others first, and took joy in the thought of lifting a trophy with his teammates. 

He returned to play on Jan. 3 for a game against Union College. At the time, he felt ready, but looking back, he admits he probably came back too early. Though his sickness had disappeared, he still hadn't gained back the strength he had lost. Even then, things started to get better — he had points in back-to-back games against the University of Wisconsin on Jan. 9 and 10, and then went on a four-game point streak between Jan. 30 and Feb. 14.
But his body couldn't keep up. He felt constantly behind his teammates. He felt like he was always playing catch-up. In a game against the University of Notre Dame on Feb. 20, he was a minus-2 on the night, and was benched the following evening. Back-to-back games required too much stamina. He was benched again a week later during the team's regular-season finale against Northeastern University.
So, during BU's bye week in the first weekend of March, Robbie went home to Enfield, Connecticut. He talked to his parents, visited with his close friends from high school, took a moment to reminisce, relax and unwind. He watched on TV as Merrimack College upset Northeastern, setting up BU's Hockey East quarterfinal matchup for the upcoming weekend. His parents — his main confidants, the number-one people who never told him he couldn't do anything — provided a quiet, comforting environment for him to reflect, to remain calm, to reconsider the next few weeks ahead.
It gave him time to reevaluate his expectations for the postseason. Even though the first several months of the season didn't go as he had envisioned, he wasn't about to let that set the tone for the playoffs.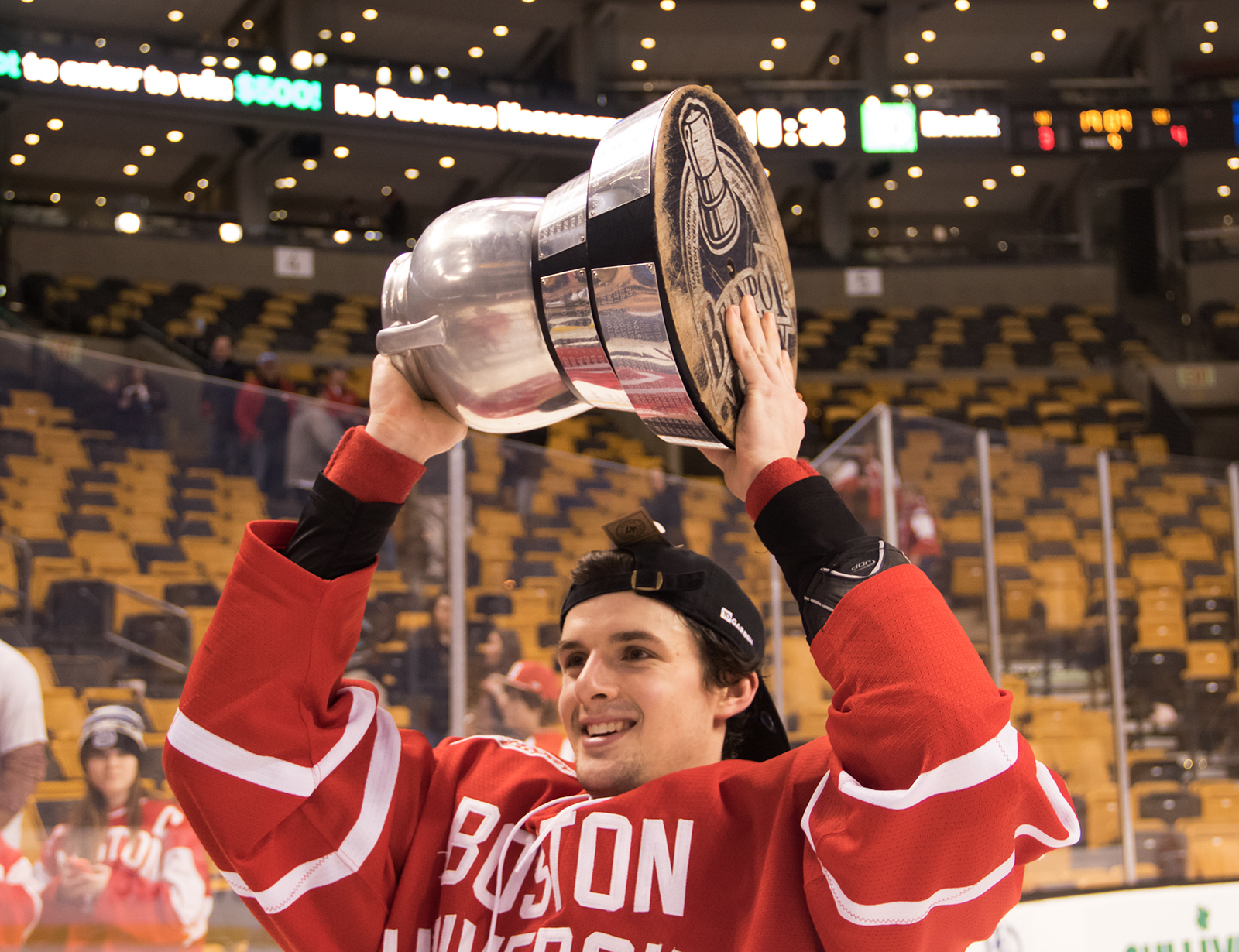 ---
Robbie's always had success in big games, according to his prep school coach, Cushing Academy's Robert Gagnon. Over the course of his career — at Enfield High, Cushing Academy, and in the U.S. Hockey League for the Indiana Ice and Omaha Lancers — he's performed at the top of his game. It's how the Ottawa Senators ended up selecting him in the fifth round of the 2012 NHL Draft.
In Robbie's first game back after his trip home, a 6-2 quarterfinal win over Merrimack, he had a goal and an assist. He was a plus-1 in BU's Hockey East title game against the University of Massachusetts Lowell. Further on in the playoffs, he had an assist in the Frozen Four against the University of North Dakota.
"When he came back in the playoffs, he started getting his swagger back a little bit," Gagnon said.


Robbie had another big moment earlier in the year, too. In the Beanpot final against Northeastern on Feb. 23, he scored on a rebound to give BU a 2-1 lead — his first goal in 136 days, the first since his tally back in October.
That goal is something he'll always remember, he says.
---
When BU lost in the national title game in April, most of the players weren't afraid to show their emotion. Some hunched over or kneeled on the ice, some openly sobbed, tears streaming, faces red.
Robbie didn't cry. While his teammates surrounded him in various collapsed states, he stood stunned, but devoid of any drastic emotion.
Nearly five-and-a-half months later, he revisits the moment. He had envisioned playing in the national championship game his entire life — it was his dream. Even in a year where he personally struggled, an opportunity for his team to take home the ultimate prize would have been an unbelievable feeling.
"It was…"
He trails off, takes a deep breath, exhales, searches for the right words to describe the opportunity. He chooses his words carefully.
"Definitely something that you're always going to remember, no matter what the outcome was," he says, more quietly.
Robbie's watched the national championship game since he was young. His grandfather even played in the Frozen Four in 1952. Robbie felt an immense sense of pride in the chance to carry on the family name, and a school tradition. He's watched friends and former teammates play in the title game. He sat in a hotel room with a friend in 2009, while away for a showcase tournament, and watched as BU took home the crown over Miami University with a thrilling overtime win.
That's his mindset for the entire title game. I'm in that same spot. That could be me today.
It almost was. BU took the lead into the third period, but a mishandled puck and a shift of fate allowed Providence College to tie the game, then take the lead. BU didn't recover.
"We were going into the third period, we were up 3-2, just being one period away from having that same feeling…"
He fades off yet again, trying to formulate a proper sentence to describe his emotion.
"I'm still thinking about it," he says.
Providence — led in part by the heroics of Robbie's former Indiana Ice teammate, goaltender Jon Gillies — won, 4-3. The pain didn't hit him until much later that night, when he sat silently with his parents at his hotel. It was a heartbreaking ending to an already individually disappointing season. There were no right words, Maika says. Nothing comforting could be said. They didn't leave him until 3:30 in the morning.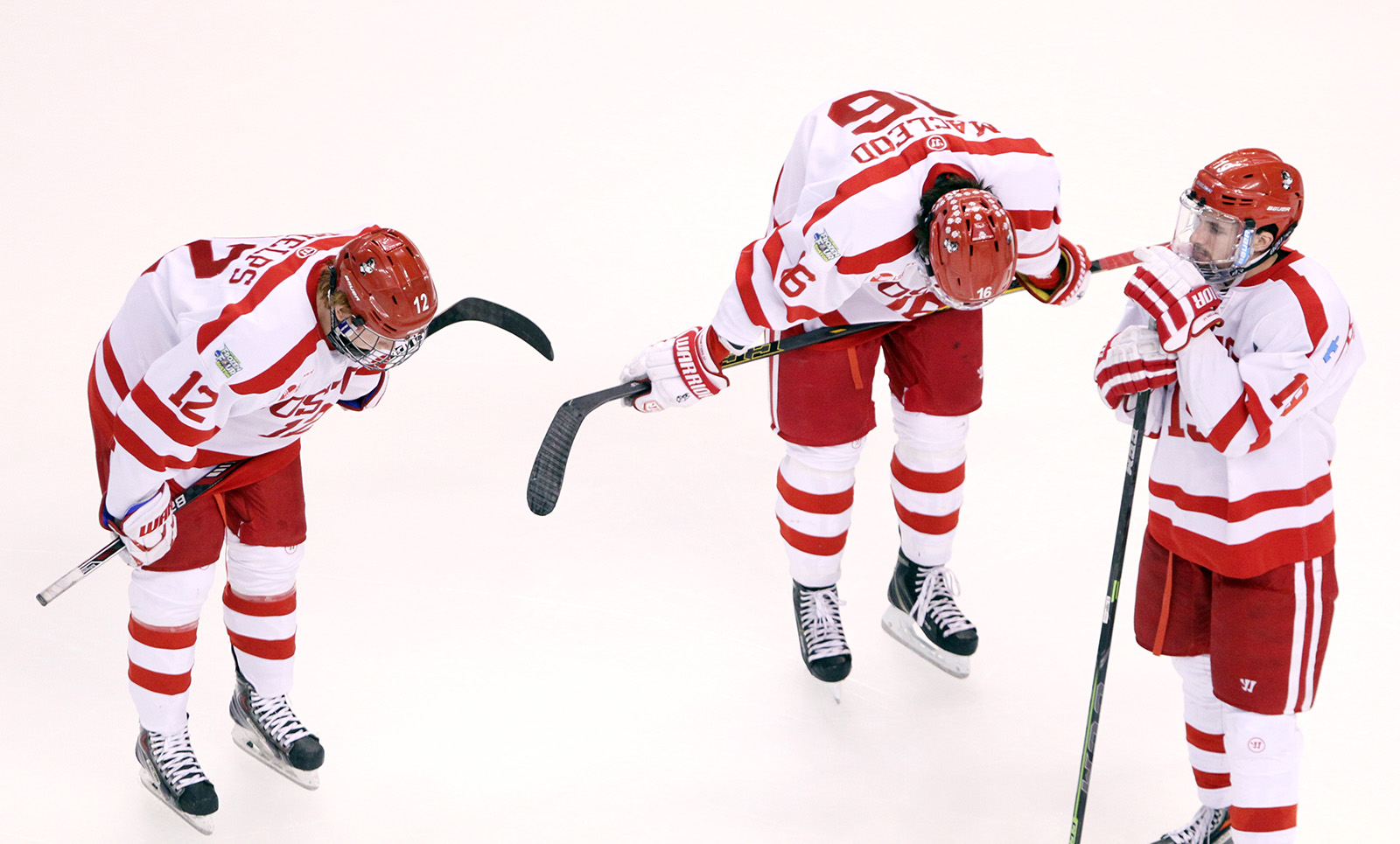 ---
When Robbie was young, he was given a sign that stated: "Never, ever, ever give up." A simple message, but one that he's taken to heart. Just because last year didn't pan out the way he wanted it to, why let that distract him?
"It sucked that a great year had to end like that, but at the same time, it didn't ruin it all," Robbie says. He lists off winning the Beanpot and Hockey East, making the Frozen Four. He thinks the team has the personnel and drive to qualify for the Frozen Four again this year, with perhaps a Beanpot and conference title in there, too.
As for him?
"I know my goals," he says about his upcoming junior year. He then points to his head and smiles. "They're up here. I want to keep them up there." He says he's written them down, however.
Humble and mysterious as he may be, Robbie got to work this summer. He didn't want another three-goal, 13-assist season. He remained on campus for the summer, forgoing Senators camp to take a class and work with local trainers. He went to yoga sessions specifically designed for athletes. He worked with acclaimed shooting coach Glen Tucker, who has trained countless NHL stars. He used computer programs to improve his eyesight and reaction time.
And he feels better. All of his muscle that turned into body fat while he was sick has restored itself to muscle, and he's added some weight on top of that. He feels stronger. Simply, he looks better, and can see results, which has led to an improved confidence.
"This is the best I've seen him in his hockey career," Bob said. "I'm his hardest critic, and I'll put that out there. This is the best I have ever seen him."
Gagnon fully believes that Robbie has the capacity to achieve his dreams of being an NHL player. Robbie's current coach, BU head coach David Quinn, says that Robbie has everything it takes to be an elite player at the college level.
Gagnon says: "I don't know if he understands how good he is."
Robbie brought that "never, ever, ever give up" sign to college, too, as a subtle reminder of what he wants, and where he's going. It's still prominently displayed in his bedroom, and he looks at it every day.