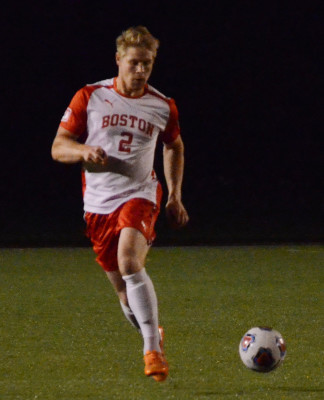 Riding a 12-game unbeaten streak in regular season conference play, the Boston University men's soccer team will look to add to that total when it takes on Patriot League foe Loyola University Maryland at Nickerson Field on Saturday afternoon.
The current run of a dozen unbeaten games for the Terriers (7-2-1, 2-0-1 Patriot League) against conference opponents dates back to September of last year. BU has not had such a run of success since the 2001 and 2002 seasons, when the team similarly went 12 games without a loss.
Most recently, the Terriers are coming off a narrow 1-0 overtime victory at Colgate University on Wednesday night. Sophomore midfielder Anthony Viteri's goal in the 95th minute sent BU into a frenzy, celebrating its fifth straight unbeaten game and third straight victory.
Wednesday's triumph over the Raiders (4-5-1, 1-2 Patriot League) was also the third straight shutout for BU coach Neil Roberts' squad, and their fifth of the 2015 campaign. There is still room for improvement, though.
"One thing we still need to get better on is our possession," Roberts said. "It's good at times, not really consistent though, and I think creating chances is the next thing we need to get better at. We've got to turn that possession into chances on goal, and make the goalkeepers do a little bit more work than they have been in the past three games."
In net for the Terriers, junior Matt Gilbert has been more than up for the task of replacing Nick Thomson, who graduated after playing every second in goal for BU last season.
The Madison, New Jersey, product's work has not gone unnoticed. Gilbert was nationally recognized for his stellar play in net, as he was named National Soccer Coaches Association of America (NSCAA) College Player of the Week on Tuesday. He became the first Patriot League men's soccer player to win the award since its inception five years ago.
On a team with many underclassmen, Roberts has relied heavily on the veterans that he has at his disposal for leadership. They have stepped up in all facets of the game, from senior defender Jeroen Blugh's tight play in the backfield to junior right back David Asbjornsson's vision and passing from deep positions.
It has been the youngsters, though, that have carried the Terriers through the first 10 games. Viteri leads the team in points with 14, and ranks first in the conference in points per game (1.40). Midfielder Felix De Bona has progressed nicely in his junior campaign, tallying nine points thus far.
Freshman forward T.J. Butzke (four points) and freshman midfielder Magnus Benediktsson (team-leading three assists) are also making positive impacts.
"They're hardworking kids so it makes it much easier, and they're talented," Roberts said of the underclassmen. "It's a good combination. I think the older guys are setting a good example where training is very competitive, and these guys are just following right along."
On the other side, the Greyhounds (1-7-2, 0-2-1 Patriot League) have struggled to put the ball in the net this season, having lost four of their last five contests.
Both BU and Loyola are fairly new to the conference, as each team is now in its third year as members of the Patriot League, but the two teams have adjusted quite differently to the conference.
While the Terriers were regular season champions in the Patriot League just a season ago, the Greyhounds have not been able to sustain similar success. Loyola Maryland is a young team as well, with 14 underclassmen on the roster.
It is junior Brennan Goldsmith, though, who leads the team in scoring with three points. In contrast, BU has seven players on its roster who have tallied at least three points thus far.
Despite their ranking last in the Patriot League in a number of offensive categories, including points, shots and goals allowed, Roberts was quick to note that the Greyhounds should not be taken lightly.
"Anybody is competitive when the game begins," he said. "If you look at Loyola, yeah they're young and it's been a difficult year for them, but especially in conference games, they've either tied or lost them really late.
"They're definitely concentrating on trying to keep clean sheets," Roberts added, "so that makes the game difficult. They're going to sit in and try to defend, and see if they can catch a break on a restart, and I'm sure the more they do it, the better they're going to get at it, so it's going to be our job to see if we can break them down without exposing ourselves."