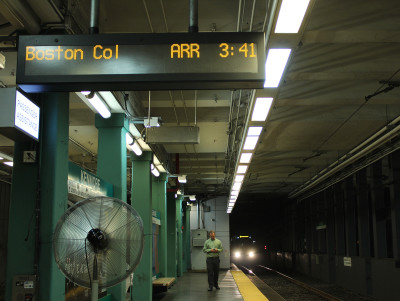 The Massachusetts Bay Transportation Authority began to activate additional arrival countdown clocks at Green Line stations throughout Boston this week.
The signs at Copley and Arlington were unveiled Tuesday, the Inbound signs for Boylston and Park Street on Wednesday and the North Station, Haymarket, and Science Park Station signs on Thursday.
"These signs provide important information that significantly enhances our customers' commuting experience," said MBTA General Manager Frank DePaola in a Wednesday press release,"The oldest subway stations in the United States are now displaying real-time information, letting customers know when they can expect the next train."
Jason Johnson, a spokesman for the MBTA, said there will be countdown clocks for the B, C and D trollies.
"These signs provide important information that enhances our customers' commuting experience and allows them to have real time information at their disposal," Johnson said. "… Over the last few years we've made progress and taken steps to provide real time information to our customers, including service alerts, locations and predictions for buses and heavy rail trains."
Given how busy the Green Line is, Johnson said there is a need for countdown clocks.
"It is the busiest light rail line in the country," Johnson said. "It has 225,000 daily passenger trips, so having countdowns there is a big step in a series of improvements to the Green Line."
The MBTA first introduced countdown clocks to the Red, Orange, and Blue Lines in January 2014, according to an MBTA press release.
Elizabeth Williams, a research associate at Northeastern University's Dukakis Center for Urban and Regional Policy, said the addition of time clocks has the potential to change the perception that people have of the Green Line's unreliability.
"The Green Line is widely perceived to be the slowest moving of the various rapid transit modes in Boston," Williams said. "Knowing when the next train is going to come has significant psychological benefits. Trains may not come more frequently, but knowing when the next train is going to come gives riders more control over their trip."
Williams also noted that the addition of the time clocks would most likely lead to an increase in ridership.
"This could potentially attract more riders to the Green Line and the MBTA system overall," Williams said. "More riders on transit is never a bad thing for transportation networks and cities overall, especially for drivers in terms of easing congestion."
Boston residents who have had problems with the Green Line in the past said adding more countdown clocks will enhance their transportation experiences.
Natalie Florescu, 20, of Allston, said the clocks will be helpful as timing is a consistent problem with the Green Line.
"It's a lot better for sure," she said. "The biggest problem for me with the Green Line is timing, so the clocks will be helpful for sure."
Stephanie Romanowski, 22, of Brighton, noted how helpful the clocks will be in stations where many different train lines go through.
"Clocks would be helpful at Park Street in particular because you have all the different lines and you never know which one is coming," she said. "I like knowing how long I have to wait until the next T comes."
Marco Brockmann, 33, of Brighton, who takes the B Line to work every day, said he frequently experiences issues with crowding and timing on the Green Line, but feels optimistic that the clocks will help.
"It's always very crowded and sometimes I cannot get on because so many people are already inside," he said. "There are many issues, to be honest, but the time clocks will definitely help improve transportation on the Green Line."