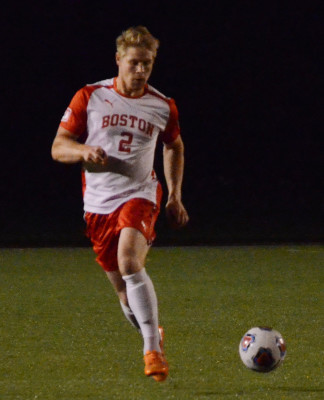 Coming off their fourth straight win, the Boston University men's soccer team will head down I-95 to take on Brown University in Providence, Rhode Island, on Tuesday night.
The Terriers (8-2-1, 3-0-1 Patriot League) look to notch their fifth win in a row and extend their season-best unbeaten streak to seven games.
BU narrowly escaped with a 2-1 victory against Loyola University Maryland on Saturday at Nickerson Field. Freshman midfielder Nicki Wieners scored the game-winner to cap the second half comeback. The Terriers will look to carry over the momentum from the win into Tuesday's matchup.
"I'm confident that they're going to be prepared to play and that they will try to execute what they need to do," said BU coach Neil Roberts. "I'm confident in that because they've proven that over the season."
Meanwhile, the Bears (5-4-1) will look to establish a winning streak of their own following a tie and a loss in their previous two games.
Interestingly, the Bears' last two matchups have come against opponents that also faced the Terriers this season. Brown tied Princeton University on Saturday, and lost to Boston College on Oct. 6. Like the Bears, BU also went winless against these teams, having lost to both squads in September.
Although Brown has an inferior record, they have proven that they can compete with good teams. The Terriers cannot afford to get off to as slow of a start as they did on Saturday.
"Brown is a difficult team to play," Roberts said. "They use a lot of confusion and that's how they get a lot of their goals. We have to be able to limit the confusion and kick the ball for longer periods of time to not give them restarts and throw-ins. It is a difficult matchup for us."
Leading the offense for the Bears is freshman Jack Hagstrom. The Wisconsin native leads an offense that averages 1.4 goals and 11.8 shots per game.
Hagstrom has been named Ivy League Rookie of the Week three times this season while posting a team-leading five goals and 10 points.
In order to slow Hagstrom and the Bears' attack, BU will turn to their experienced backline. The upperclass trio of junior David Asbjornsson and seniors Jeroen Blugh and Richie Robinson played the entire game in the Terriers' last victory.
Their play will be crucial in front of junior goalkeeper Matt Gilbert.  Before surrendering a goal Saturday, Gilbert had posted three straight shutouts. Gilbert leads the Patriot League in saves with 56, and is second in save percentage at .862. Against Loyola, he came up with big saves in one-on-one situations to keep the Terriers in the game.
The leadership of Gilbert and the back line will continue to be essential on Tuesday and for the rest of the season.
"Gilbert has done a great job as captain," Roberts said. "With this group, everybody takes ownership and everybody has been accountable for what they need to do on the field and off the field. It's been fun to watch."
In net for the Bears will be junior Erik Hanson. For the season, Hanson has averaged 1.45 goals-against to go along with 30 saves.
Hanson will have to defend against a Terriers' offense that comes into the game second in the Patriot League in points, goals and assists.
Sophomore midfielder Anthony Viteri will once again lead the Terriers' potent attack. The St. John's University transfer leads the conference in points and goals.
Helping Viteri on offense will be freshman midfielder Magnus Benediktsson. The Reykjavik, Iceland, native has established himself as one of the BU's best passers while only playing in seven games.
Benediktsson is second in the Patriot League with four assists, with his most recent one coming on Wieners' game-winning goal on Saturday.
As the Terriers get ready to put their winning streak on the line, Roberts said he believes there is still more room for improvement.
"We still have a ways to go to say that we're going to be able to execute at a high level to create goals," Roberts said. "Can we create goals in the first half and earlier in the game?  That's the next piece of the puzzle."