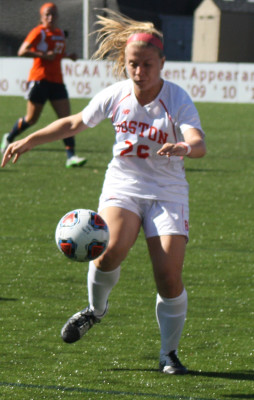 Following a tough loss last week to Harvard University which ended a seven-game unbeaten streak, the Boston University women's soccer team responded well Saturday afternoon, shutting out Lafayette College 4-0 in Easton, Pennsylvania.
All phases of the game were clicking for the Terriers (6-5-3, 4-0-1 Patriot League) in this conference matchup.
BU allowed Lafayette (5-5-1, 0-4-1 Patriot League) to muster a measly four shots during the game, all of which came in the first half.  The Terriers' defense and goalkeeping were superb as they have been most of the season, as senior goalkeeper Alyssa Parisi recorded her third shutout of the season.
The offense was just as explosive. In the ninth minute, sophomore forward Christina Wakefield, who scored her first collegiate goal last week, put in another Saturday as a result of pure hustle off a failed clear leading to a breakaway that got the BU offense started.
BU coach Nancy Feldman used Wakefield's goal as an example for how the team played as a whole.
"Wakefield's goal showed a balance of hustle and a high work grade and having the composure and confidence to have control to make good decisions with the ball," Feldman said. "You have to play fast, but you have to keep calm and be poised so hopefully our skill can show itself.  I think our team did a really good job of that yesterday."
Junior forwards Erica Kosienski and Alex Schlobohm continued the offensive attack in the first half for the Terriers as they put in goals in the 12th and 41st minutes, respectively.
In the second half, senior forward Jenna Fisher sent home a cross from six yards out. She also had an assist earlier in the match.
As upperclassmen, Fisher and her teammate Parisi have been important in leading the Terrier team all season, and most evidently against the Leopards yesterday. Feldman has relied on the tandem through the first part of the 2015 campaign, and their success will be integral to the team moving forward.
"They have strong competitive nature and a high standard for themselves," Feldman said of the duo. "They demonstrate aggressiveness and the attitude of wanting to getting after it, but also poise and confidence. They lead by example by how hard they work."
Perhaps the most impressive part of the win was the fact that it came off of last week's loss to Harvard (6-6-1). BU fell in that contest 2-1 after taking a one-goal lead in the first half.
Feldman made it clear that after the loss to their in-state rivals, no lead is safe no matter what the score is. The Terriers certainly played that way on Saturday, not allowing the Leopards to get a single shot off in the second half.
Feldman stressed that, even after losses, the Terriers "don't make excuses."
"It's the character of the kids, it means a lot to them," Feldman said. "The way to achieve your goals involves being knocked down and getting up off the mat. We have to make improvements so the same doesn't happen again.  That's persistence and character and keeping your eyes on the goal in front of you and we certainly did that yesterday."