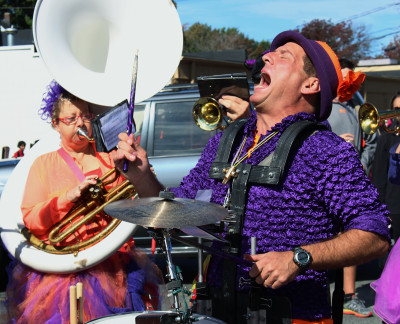 One thing is for sure — the 10th anniversary celebration of the HONK! Festival was definitely not a typical parade.
HONK!, held over Columbus Day weekend, united activist street bands and performers as they honored a decade of creating awareness for social change through music and bigger-than-ever celebration.
Ken Field, an organizer on the HONK! committee as well as a performer in the parade, said this year's anniversary celebration focused on including past performers.
"What we decided ultimately is that we would try to invite all the bands that had been to our festival over the last nine years," he said. " … This gave us a chance to spend time with this international community that's developed around the HONK! Festival that we started a decade ago."
The result of this decision was an enormous, carnival-like extravaganza of a parade that began in Somerville's Davis Square and ended in Cambridge's Harvard Square. There were performers of all ages, from infants with their parents to college students to senior citizens.
There were also numerous people on stilts and unicycles, acrobats and people covered in glitter and paint. Every time a new group approached, they provided something new to the parade. The Boston Hoop Troop, for instance, added a fun element to the performances with their hula-hoop dancing and leaping around.
Each band or group performed on its own terms with no organization or formation. Nothing about this parade was uniform, except each group had a distinct color scheme that set them apart, including colored instruments. Every person was in a unique costume with funky patterns, each making it their own.
The parade was an activist event, with many groups supporting or protesting different issues in Massachusetts and beyond.
"As far as what we support, many of the bands support things in their home communities and focus on things that are happening within their community, within their state, within the world, that they think they can help bring attention to," Field said.
The Massachusetts Teachers Association marched for less emphasis on testing in schools. Tufts University students marched to fight for the school's janitorial rights. There was a whole band purely dedicated to the Black Lives Matter movement. There was also a group of dancers for Dominican Pride dressed as monsters leaping around in showy, impressively detailed costumes with sequins and bells while cracking whips on the street.
"Bands can bring attention to those things by just being a band," Field said. "If you have a rally and you have a band, people check it out. It brings more people and they check out what's being said and what's happening and creates a positive force."
Above all, one movement that distinctly stood out was the movement supporting the use of the metric system in the United States. They barbequed on a huge float and held up signs with sayings such as "Don't kilo progress."
Some members participating in HONK! Friday protested for unions for workers at the newly opened Primark in downtown Boston.
"It was movement for a set of actions intended to bring attention to the fact that a lot of businesses are motivated by money only," Field said. "Businesses do things like [not worrying] so much about the environment, [not worrying] so much about the people they employ or the people they serve, and so we wanted to bring attention to some of those human issues."
The protest showed that these bands were not just empty words for change and a flashy performance, but they were willing to take action to stand up and protest for their beliefs.
Trudi Cohen, an organizer of HONK! who has been on the committee since the first festival, said she hopes that as a public event, HONK! will be able to continue to spread the idea of change in the years to come.
"This event is a remarkable gathering of like-minded people from diverse places," Cohen said. "I believe that bringing music to the streets to support political change and social justice is important, because music is an important component of change. It's amazing being together with people who believe in that and want to share strategies and music and experiences with each other."
The overall mood of the parade was light and enjoyable. Everyone watching had smiles on their faces and many were dancing. The performers interacted with the crowd by giving high fives, yelling out hellos and even handing out flowers.
HONK! was a celebration of community and activism, pointing out social issues in a special and entertaining way. HONK! has been taking a stand for the last 10 years, and they do it in the most fun way possible. The event gives hope that, through positivity and fun productivity, everyone can work to better both the community and the world.
Jenn Zawadzkas, a 34-year-old Somerville resident, has attended every HONK! parade in the last 10 years, and said she enjoys being a part of the community that supports it every year.
"I love the idea of bringing people together and making some noise," she said. "I feel like this is an event that really makes Somerville a community, and it has for the last 10 years."