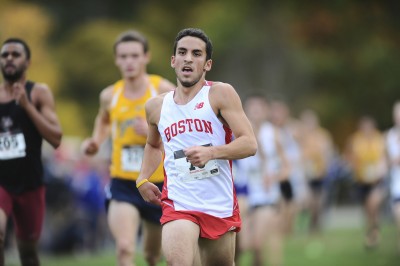 The Boston University men's and women's cross country teams both performed well at the New England Championships on Saturday at Franklin Park, with the men's squad winning its meet with a score of 143. The men's team's performance was good enough to beat the second-place team, Amherst College, by 33 points.
The men's team was led by seniors Kevin Thomas and Alec Olson, who finished third (24:34.3) and ninth (24:54.2), respectively. Not far behind was classmate Paul Gennaro, who crossed the finish line in 25:14.4, good enough for a 19th-place finish.
Also contributing to the Terriers' first team title since 1993 was standout freshman Alexander Seal (25:26.1), junior Ethan Homan (25:55.2) and classmate Matti Groll (26:03.9).
The women's team also had some strong performances, finishing 11th overall out of 39 teams. BU was led by senior Shelby Stableford, who finished in 25th with a time of 18:21.2. Stableford was followed by freshman Courtney Breiner in 41st place (18:32.4), junior Hallie Armstrong in 54th place (18:40.8) and freshman Jamie Grossman in 83rd (18:58.8).
Both cross country teams will next compete at the Central Connecticut State Mini Meet on Oct. 23 before competing at the Patriot League Championships.
Emily Tillo helps women's golf find stroke at Yale Intercollegiate
The Boston University women's golf team finished 12th out of 16 teams at the Yale Intercollegiate, a three-day tournament at The Course at Yale this past weekend.
The Terriers totaled a 54-hole score of 933 (315-311-307), thanks to senior Emily Tillo, who finished 13th individually. Thanks to eight total birdies, Tillo totaled a 224 (76-75-72).
Also playing well for the Terriers was sophomore Phyllis Tang, who scored a 234 (78-80-76). Junior Adela Cejnarova scored a 236 (80-73-83), senior Maddy Silverman tallied a 240 (81-83-76) and freshman Megan Carter rounded out the top five with a score of 265 (91-91-83).
The Terriers will soon have their final tournament of the season when they head to Kiawah Island in South Carolina to compete in the College of Charleston Palmetto Intercollegiate on Oct. 25.