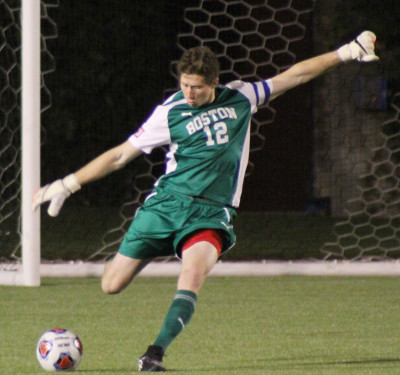 Despite a crushing 2-0 defeat at the hands of Brown University on Tuesday night, the Boston University men's soccer team currently holds first place in the Patriot League standings.
BU (8-3-1, 3-0-1 Patriot League) has 10 points in league play, but the United States Naval Academy is right on its heels with an untarnished 3-0 league record and nine points on the year. That being said, BU coach Neil Roberts is not worried about the standings, but more so with the results.
"We just have to stay focused on getting points each game, whether it's one or three," he said.
Before the loss to Brown (6-4-1) in Providence, Rhode Island, this week, the Terriers were in the midst of a six-game unbeaten streak, which helped propel them to the top of the conference. During that stretch, BU got the best of three Patriot League foes.
Five of BU's final six regular season games are against conference opponents, where the team will look to continue its impressive 13-game unbeaten streak in regular-season league play — the best such streak since 1989-93 (28-0-1).
If the Terriers continue their total team effort, Roberts' squad has a chance to clinch its second consecutive conference regular season title.
"It's hard because every team is still in it," Roberts said. "With six teams making the tournament everyone feels like they still have a shot, until some teams get knocked out it will be difficult. But even then as we've seen every game is a battle, Loyola [University Maryland] played us tough, American [University], who we knew was a good team, they go and beat [No. 21 University of] Virginia at Virginia [(7-3-2)]."
Matt Gilbert continues to rack up accolades 
The Terriers must attribute much of their success during the 2015 campaign to junior goalkeeper Matt Gilbert. He is in the middle of his finest collegiate season yet.
He received national recognition Oct. 6 when he was named the National Soccer Coaches Association of America Player of the Week, becoming the first Patriot League men's soccer player ever to win the award. On Wednesday, he was chosen as the Corvias Patriot League Goalkeeper of the Week for the second straight week.
The Madison, New Jersey, native is having a fine statistical season. He leads the Patriot League in saves (61), and is second in both save percentage (.847) and saves per game (5.08). With his 6-foot-4 frame, Gilbert has also shut out opponents five times this year.
However, Roberts noted that his goalkeeper means more to his team than just what appears on the box score.
"Matt's matured every game and every year that he's been here as a goalkeeper and as a person," Roberts said. "He still has a ways to go and he knows it, and he works very hard, but he gets better every day. His distribution is very, very good, and he has to work on commanding his defense and getting that organized a little bit, but where he's at from where he was two years ago is amazing."
Magnus Benediktsson impresses, gets results during rookie campaign 
Another impactful player for BU this season is freshman midfielder Magnus Benediktsson. The Iceland product is not flashy and has not scored a goal yet this season, but his importance to the Terriers' attack cannot be understated.
"Magnus is doing very well," Roberts said. "Obviously he's not a big guy, but he's very quick, he's technical and he's figuring things out very quickly."
Benediktsson's combination of speed and athleticism has been crucial to BU's success as of late. He has only played in eight of 12 games this season, but has a team-leading four assists. That also puts him second in the conference in that category, which is a major reason why BU has the second most assists in the Patriot League.
Benediktsson was also rewarded for his recent efforts, as he was named the Corvias Patriot League Rookie of the Week on Wednesday. He played a critical role in both of the Terriers' victories last week, assisting on game-winning goals in the Colgate University and Loyola (1-8-2, 0-3-1 Patriot League) contests.
Look for Benediktsson to continue to take more of a spotlight role in BU's offensive attack moving forward, especially if he keeps producing like he has been.
"We have to get him shooting a little more," Roberts said. "But from the amount of games he's played and the time he's been here, it's a real pleasant surprise for us."