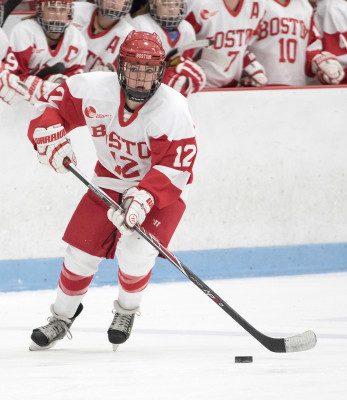 The No. 9 Boston University women's ice hockey team is set for its biggest challenge to this point in the 2015-16 campaign when it welcomes No. 4 Clarkson University for a two-game set this weekend at Walter Brown Arena.
The Terriers (3-1, 2-0 Hockey East) are coming off a whirlwind weekend against Pennsylvania State University in which the team salvaged a split in a pair of games on home ice.
On Friday, BU had a hard time recovering from a 3-0 deficit that it faced before the end of the first period. The Terriers showed some fight, but ended up falling to the Nittany Lions (1-3) by a final score of 5-3.
"I think we learned a tough lesson in that we have to make sure we're ready to go, but more so that we're disciplined with what the structure entails," said BU coach Brian Durocher. "We kind of played what I'd call a pond hockey game on Friday night, where we got 40 shots on goal and we can look back and say 'we had chances' or 'we held the puck,' but we weren't stopping and starting, we weren't hard to play against."
The Terriers responded well Saturday afternoon, though. They beat Penn State, 3-1, behind stellar play from sophomore goaltender Erin O'Neil, who had 27 saves on the afternoon. Sophomore forward Rebecca Leslie, who leads the team lead in points with eight on the young season, had a goal and two assists in the game.
Durocher, now in his 11th year at the helm, noted that despite Friday night's loss, the team can definitely learn something from last weekend's set.
"We have to learn that if we're structurally sound, we'll be better," Durocher said. "We came out Saturday a completely different team, yet we still had to fight, scratch and claw as we have this year, so hopefully they understand that that's what we have to do."
Each line has been contributing for the Terriers, but it has been the second line that has done the most damage as of late. Leslie, sophomore forward Victoria Bach and senior forward Rebecca Russo have tallied 19 of the team's 31 points. Look for the trio to do more damage this weekend against the Golden Knights (5-0).
In net, O'Neil and junior goaltender Victoria Hanson have split time for the Terriers. Each has started two games in the early going, and both have found relative success.
O'Neil has made 31 saves and recorded a .912 save percentage, while Hanson has stopped more pucks (55) but has a slighter lower save percentage (.902). There is no set starter at this point, but Durocher said he hopes one becomes clear.
"I'm waiting for one of them to really state their case or completely establish themselves," he said. "I think Victoria did a little bit of that last year late in the season, and again the body of work over the course of the year was fairly equal and I don't think she was to be faulted for Friday night, so we'll go back with [Hanson] on Friday and probably Erin on Saturday.
"I want one of them to just play three games in a row and dominate in practice to make it easy for me to just say, 'there's our goalie' or 'this is the one that's going to be the number one,'" Durocher said. "We'll have the number two that gives her a rest once in a while, but nobody's quite made that picture clear in my eyes or my staff's eyes so we're still working on it."
Clarkson, on the other hand, appears to have its goalie situation sorted out, with sophomore Shea Tiley getting the bulk of the minutes. She has made 84 saves thus far en route to a stellar .966 save percentage.
The forwards for the undefeated Golden Knights have impressed as well, with junior Cayley Mercer leading the way with eight points for an offense that averages 3.6 goals per contest.
"Clarkson plays a very disciplined game in that they're not a run-and-gun team," Durocher said. "They have the ability to score goals, create offense, and a lot of it is off of your mistakes.
"They play sort of a conservative style in that they'll back off a little bit and won't spend all their time forechecking," Durocher added. "They're across the board a big team and they kind of lean on you with their size."
For BU, the games this weekend will be critical for Durocher and his staff to assess the talent of this experienced group, which includes 14 upperclassmen on the roster. Protecting home ice will also be a point of emphasis for Durocher and company.
"We have a very home-slanted schedule in that seven of our ten non-league games including the Beanpot are all in our building, so we want make sure we're doing a good job," Durocher said. "We have a lot of kids. Whether they're playing on the top line or the third line, they've played plenty of college hockey, and I lean on that, I count on that, and I think it has helped us in the early part of the season."