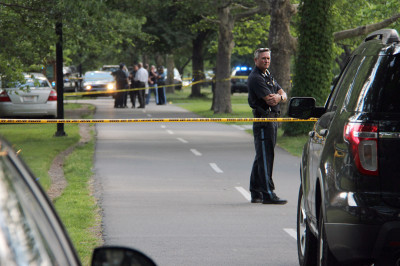 Despite recent stabbings in the Boston Common and West Roxbury, there has been a 10 percent decrease in Part One major crimes in Boston since last year, reflecting the success of recent prevention efforts, according to the Boston Police Department.
Part One crimes include acts of violence such as homicide, rape, assault, robbery and arson, according to the Federal Bureau of Investigation's guidelines for uniform crime reporting.
BPD is focusing on reducing the number of guns on the streets and boosting community relations in order to decrease crime, said Officer Rachel McGuire, a spokeswoman for the department. Violent incidents are always a concern to the department, she said.
"We're always concerned about crime, but crime is down thanks to our addressing issues that do come up and I think that we've been doing a pretty decent job lately keeping crime down," McGuire said.
BPD has taken 591 guns off the street within the year and has been focusing on preventative action, McGuire said.
"We've been doing a pretty decent job lately keeping crime down, getting guns off the street and speaking with people in the communities and the neighborhoods to see what they're concerned about and what we can do more to prevent crime in their neighborhoods," McGuire said.
Between Friday and Tuesday, there were two shootings reported, according to the BPD website. There were a total of sixteen street robberies, the website stated.
McGuire said the main focus of the department is community policing in certain neighborhoods. The department has increased presence in particular locations across the city, she said.
"Specifically in the [Boston] Common we do have bike patrol, in our major hotspot neighborhoods, which would be Dorchester, Roxbury and Mattapan. We also have patrol over there," McGuire said. "Wherever we see increases in crime, or hotspots as we call them, we'll deploy units to those areas."
In light of several acts of neighborhood violence over the summer that included a shooting, the city has focused on community outreach, The Daily Free Press reported Sept. 2.
McGuire said that although safety is not always a guarantee in a city, it is important for residents to remain cautious of the environment and surroundings.
"Wherever you go isn't necessarily safe or unsafe, we don't usually speak about it in those terms, but you always want to be alert and aware of your surroundings because you're in a city," McGuire said. "You're in a place where there is a dense population, where there are people of all shapes and sizes, and you just want to be aware of your surroundings. Keep in mind that you are in the city."
McGuire said that living in a city increases the potential for crime, but it also creates a stronger police department and presence.
Several residents said they feel confident that BPD will do its best to maintain a low crime rate in the city.
Christine Robinson, 31, of Dorchester, said police presence could be heavier in her area.
"[I feel safe] where I live, but there are some parts that aren't as great," she said. "The crime rate
isn't as bad, so I don't see them as much as in other areas. I would like to see the police present
more in my area."
David Jacques, 38, of Fenway, said although he feels safe in his own neighborhood, it is necessary for the police to reduce crime throughout the city of Boston.
"You hear on the news a lot of unsafe things happening," he said. "I would definitely like that to be reduced."
John Egan, 64, of Dorchester, said familiarity with his neighborhood and increased police action help him feel comfortable.
"I grew up in Dorchester, so I feel very safe. I think [the police] do a good job, I think they really concentrate on the high profile areas to keep everyone safe," he said. "I would like better street lighting. It's gotten so bad with all of the new environmental light bulbs that it's really hard to see."