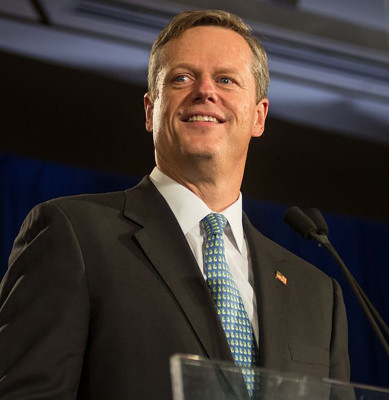 Massachusetts Gov. Charlie Baker unveiled new legislation Thursday to limit access to prescription drugs and curb the addiction epidemic in Massachusetts.
The bill calls for a strict 72-hour limit on the supply of opioids that a practitioner may dispense to first-time prescription patients, providing an exception for emergency situations.
At a press conference held at the Massachusetts State House, Baker addressed the importance of finding a solution to the opioid crisis.
"That 72 hours period is an opportunity to help folks find their way to a better path. I get the fact that this is also a reasonably controversial notion," Baker said. "Combating the opioid epidemic in the Commonwealth calls for a comprehensive approach, and filing today's landmark legislation is a critical step toward creating more effective treatment pathways and better controlling opioid prescribing practices for first-time patients."
The legislation would also grant clinicians the right to retain patients for a three-day period in order to treat and assess those who pose a risk of harm to themselves or others, according to a Thursday press release.
Other aspects of the bill include mandated controlled substance training for practitioners and education training on substance misuse for coaches, school nurses and involved parents in public high schools to detect and prevent opioid misuse among the young.
Marylou Sudders, secretary of the Massachusetts' Executive Office of Health and Human Services, said the legislation adds to progress already being made.
"Since the [Governor's Opioid Addiction] Working Group's Action Plan was made public in June, we have expanded treatment services, eliminated insurance barriers and worked to increase education for students, parents and faculty, broadened public awareness of the crisis and expanded access to life-saving Narcan," Sudders, who chairs the working group, said in the release.
The proposal also amends the civil commitment statute to allow women undergoing abuse treatment to be sent to more secure health facilities approved by the Massachusetts departments of Public Health and Mental Health, the bill states.
The bill states that Baker plans to reinforce the already-existing prescription monitoring program by requiring clinicians to refer to it before issuing opioid prescriptions.
Robert DeLeo, speaker of the Massachusetts House of Representatives, spoke positively about Baker's efforts to address the sudden increase in drug abuse in the Commonwealth.
"I look forward to collaborating with my colleagues in the House, the Baker Administration and all stakeholders to ensure that addiction is treated as a disease rather than a choice, and that we are providing the most effective support for individuals battling substance addiction," DeLeo said in a Thursday statement.
The Baker Administration has invested more than $114 million to strengthen prevention, treatment and education programs dealing with prescription drug abuse, according to the release.
"This legislation brings many important reforms to the fore, ranging from a new curriculum to educate student athletes on opioid use to amending the civil commitment statute to improve patient treatment options," Baker said at the conference. "I've talked to many people in the Commonwealth … who've spent many sleepless nights trying to help a family member or a friend deal with addiction."
Sandro Galea, dean of Boston University's School of Public Health, said the bill is a good measure for fighting addiction.
"This is a good first step towards stemming the tide of opioid use in the state," Galea wrote in an email. "There remains much to be done, but much more needs to be done particularly to increase availability of treatment throughout the state."
Dennis Dimitri, president of the Massachusetts Medical Society, said some proposals in the bill need to be considered "with care and caution."
"The limitation of a 72-hour supply of pain medication is another concern, as it could impede the effective pain management of patients, though the bill does allow for the 'professional medical judgment of the practitioner' to prescribe more in emergency conditions," Dimitri said in a Thursday statement. "This limitation undermines clinical judgment that may be necessary in non-emergency situations."
In addition, the bill raises questions about civil liberties and may discourage patients from seeking "needed treatment," Dimitri said.
Several residents said they support efforts to help prevent residents from becoming addicted and to get treatment if they need it.
"The governor has been doing lots to fight drugs in Massachusetts and that's great. It's a really important issue to focus on, so I'm glad he's doing that," said Carla Ryder, 47, of Brighton.
Mary Krohn, 33, of Back Bay, said she is glad there are ongoing efforts to address opioid use.
"Opioids are a big issue right now and I think a lot of people are trying to address it," she said. "People need help and there need to be available ways for them to get help."
Olivia Quintana contributed to the reporting of this article.