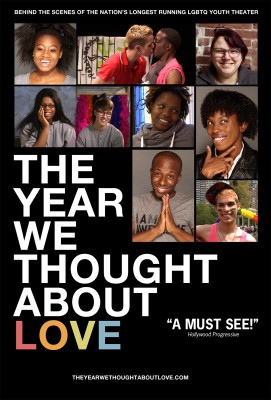 The documentary "The Year We Thought About Love" navigates a year in the life of one of the oldest LGBT youth theater troupes in the country. A Boston-based organization called True Colors: Out Youth Theater is the focal point of the documentary.
The Cambridge GLBT Commission and the Somerville LGBTQ Community Liaison united Thursday to sponsor a free screening and discussion of the film at the Cambridge Public Library. Director Ellen Brodsky, associate producer Pam Chamberlain and three True Colors actors — Giftson Joseph, Kriss Lynn and Kemani "Niccole" Williams — took the stage following the screening for a heartfelt Q&A session.
Members of True Colors, all of whom are between the ages of 14 and 29, work to portray their personal and private struggles of self-identity, coming out, familial conflict and queer love on stage. The film itself follows 20 members of the 2012-2013 True Colors stage troupe as its members faced these conflicts while concurrently projecting the struggles on stage through acts mirroring real-life turmoil, acceptance and triumph.
"For me, what you saw was one of the hardest points in my life," Lynn said. "So for the most part, life has been growing up since True Colors."
The troupe tours schools, groups and social service agencies in order to foster relationships and connect with others facing similar struggles. True Colors, the panel members said, sparks conversations concerning the true struggles of LGBT youth within their schools, homes and communities. The main goal of this approach is to provide an artistic outlet to activate youth audiences.
During the Q&A, Williams reflected on a memory of one such visit to a middle school during her time with True Colors. A boy, inspired after the performance, found the strength to approach her and two other actors.
The boy, Williams said, was clearly trying to transition, and wanted help telling his mother about it. Williams said she didn't have resources like True Colors at such a young age, and admired the fact that this boy was able to speak with them after such a short performance.
"For someone who is getting bullied at school and isn't sure of themselves to watch only a short, 45-minute theater performance and say 'This is me, and I'm going to be bold. And I want to know how to fix it,'" Williams said, "was really inspiring to me."
Joseph, who is of Haitian lineage, said he had insecurities rooted in his cultural heritage throughout his teenage years. He spoke of being told, "Haitians aren't gay" repeatedly, and of fighting with his self-identity because of negative stimuli in his family.
"True Colors helped me get out of my shell," Joseph said. "I always tell people that before True Colors, I used to wear hoodies a lot. It would be 90 degrees out, and I would be wearing a hoodie because I thought it was a way to shelter me from the world … True Colors helped me find my essence, if you will."
The actors present at the Q&A are all native to Boston, and both Brodsky and Chamberlain are Cambridge residents, so they all celebrated the opportunity to share their documentary with their friends and neighbors.
"I was sucked into the whole process recognizing that there is something precious here that people need to see," Chamberlain said. "Just a few school groups have the privilege of having True Colors come and visit them. So let's have the medium of the film to try to share that and expand. We knew that we would get something good out of this, but the main point was to capture the voices and the energy of the individuals in the troupe."
The final comment of the night came from Ayisha Knight-Shaw, 45, an individual of the deaf community from Jamaica Plain. From the front row of the auditorium, Knight-Shaw applauded the group's efforts to spread LGBT acceptance via an American Sign Language interpreter.
"I just want you to keep passing this on," she said. "This shouldn't stop with you … We all have such similar stories with our own experience: getting shunned by family members, getting kicked out. It's ridiculous. So, it needs to stop. This film will be a part of making that happen."