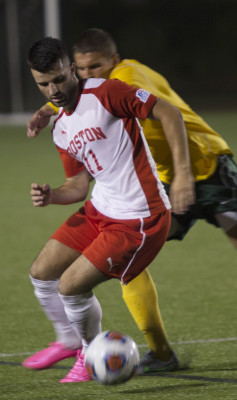 The Boston University men's soccer team took advantage of a defensive miscue in the 92nd minute to come away with a 1-0 overtime victory at Lafayette College on Saturday afternoon.
With the win, the Terriers (9-3-1, 4-0-1 Patriot League) maintain their spot atop the Patriot League, while the Leopards (5-4-5, 2-2-1 Patriot League) fell to 0-3-5 in overtime games this season. BU coach Neil Roberts' team continued its dominance during regular season league play, extending its unbeaten streak during such games to 14 with the victory.
The Terriers are just coming off a four-game winning streak, which was snapped in a 2-0 loss to Brown University last Tuesday, but look for the team to use this win to build momentum entering the final stretch of the regular season.
The first 45 minutes were relatively uneventful for both sides, as the two teams combined to total only three shots on goal during the first half.
This low-scoring affair has something to do with the Leopards' style of play, as they purposely play back defensively in an attempt to limit their opponent's offensive chances. In addition, BU was shut out in regular time for the third time in four contests, but Roberts is not discouraged by his team's lack of goals.
"We had, especially in the first 10 minutes, two really good chances, and we didn't even get them on goal which is disappointing," Roberts said. "That's what we have to start doing is at least make the goalie beat us if that's what's going to happen. We're creating some good chances. We just have to do a better job of getting it on goal."
The Terriers put more pressure on Lafayette during the second half, though, registering eight shots, five of which were on goal. Lafayette goalkeeper Brian Ehrlich made a number of difficult saves in the second half, finishing with six on the afternoon.
"[Lafayette] was playing back more because we had the ball more, and that's how they play anyway, but we played much better in the second half," Roberts said. "A lot of that was due to the fatigue in them because it takes a lot more energy to chase than it does when you're passing, so you could tell that they were getting tired especially toward the last 10 to 15 minutes and definitely in overtime.
"They were reaching," Roberts added. "It was more desperation than actually defending and I think that's due to how much we had the ball and how much we made them work defensively."
No save by Ehrlich was more impressive than a lunging one in the 82nd minute that stopped junior forward Felix De Bona's shot. The Somerville native finished with three shots in the game. He and junior midfielder David Asbjornsson combined for half of the Terriers' 12 shots.
Lafayette, who struggles on set pieces, could not get organized enough offensively to string together shot attempts. Despite having four corner kicks, the Leopards could not make much of their opportunities. BU's junior goalkeeper Matt Gilbert, who registered his sixth shutout of the year, only had to make two saves.
It was the Terriers who got the last laugh in this one, just a few minutes into overtime. Senior midfielder Richie Robinson helped force a turnover, and passed it up to freshman midfielder Magnus Benediktsson, who fed De Bona in the box. De Bona sent a cross to sophomore forward Danny Foen that deflected off Ehrlich's hands.
Attempting to put the ball in the net, Foen was pushed from behind, and the ensuing momentum pushed the ball past the goal in a frenzy.
It was difficult to see the exact details of how the play transpired, but Roberts believes that Foen, who has played only 58 minutes this year, should be credited with his first goal of the season.
"It was a great cross by Felix," Roberts said. "And then Danny Foen got a hold of it, and got a shot on goal that bounced off the goalie back to him and then Danny actually put it in underneath the goalie. He may not be credited for it, but Danny scored it."
To Roberts and his team, it doesn't really matter how they scored the goal as long as they came away with the victory.
"Three points is three points," Roberts said. "Like we say, it doesn't matter if it's coming from American [University] or [the United States Naval Academy] or anybody. It's three points, they all add up at the end. When you're on the road it's very important to get your points, so it's huge, especially with Navy [(6-5-1, 3-1 Patriot League)] losing [on Saturday at Bucknell University] so you just keep trying to separate yourself as much as you can."