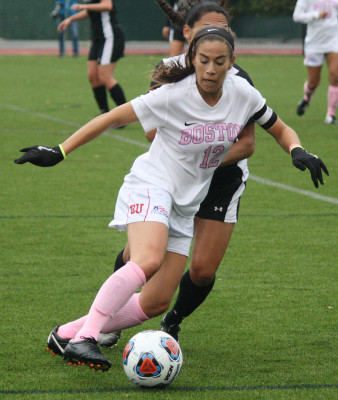 Continuing its dominating play, the Boston University women's soccer team kept the wins coming when it defeated Lehigh University 3-0 on Saturday.
The Terriers' seniors performed remarkably well on their Senior Day. Their consistent play has been a theme for the Terriers (7-5-3, 5-0-1 Patriot League) for the whole season.
Senior forward Jenna Fisher, who has held the team together on and off the field, showcased her ability to distribute and finish against the Mountain Hawks (6-6-3, 1-3-2 Patriot League) as she ended the game with a goal and two assists, accounting for all of the goals scored in the contest.
Her goal was one of extreme effort, as she fought for position off a shot and put in the rebound in the 10th minute. Her assists were both hard-earned as well as she found sophomore midfielder Jesse Shreck on a cross in 32nd minute and junior forward Erica Kosienski who also headed in a cross in the 78th minute.
Fisher, who is a team player on the field, also showed her unselfishness off the field when she credited the underclassman with success of Senior Day.
"The underclassmen have been so awesome the whole year," Fisher said. "We have such a close team culture, and it meant a lot to [the seniors], the effort they put into it."
The Longmeadow native also spoke about her emotions on her and her classmates' special day.
"It hit me a little bit in the locker room," Fisher said. "It was great having my family here, it's bittersweet. Its been a great run."
Senior goalkeeper Alyssa Parisi, who has done an outstanding job between the pipes all season long, pitched her second shutout of the year. She also owns a 0.85 goals-against average this season, best among all Patriot League goalkeepers.
BU coach Nancy Feldman commented on how much Parisi has grown since the beginning of her career.
"She was a non-scholarship walk-on and she came to summer camp and we said, 'why don't you come to preseason?'," Feldman said. "That shows how far she has come."
Clare Pleuler, Rachel Blauner, McKenzie Hollenbaugh, Lauren MacLellan and Ariana Aston, along with Fisher and Parisi, have guided the 2015 Terriers in their final year, and so far so good.
Throughout the season, midfielders Pleuler and Blauner, and backs Hollenbaugh and MacLellan have made a massive impact on the field defensively. Every game they are swarming the opposition and helping keep the Terriers' half of the pitch clean. This year, the Terriers have allowed only 1.07 goals per game, which is best in the Patriot League, and much of that statistic can be attributed to the seniors.
Feldman had many kind words regarding the BU women's soccer Class of 2015 and how far they have come to get to where they are now.
"It hasn't been an easy road for any of them," Feldman said. "This particular group has more than their share of challenges, fighting and clawing to get in the lineup. Many of them have suffered significant injuries."
With the Terrier seniors, according to Feldman, persistence is something that all seven seniors have.
"These kids have demonstrated persistence," Feldman said. "They love to play, they love the game, they've just kept after it."
This Terrier team has a strong team culture, something that Fisher referred to, and Feldman has been praising all season long.
"I hope at the end of their senior year they realize their dreams and reach their goal," Feldman said, "because there is no more deserving group."