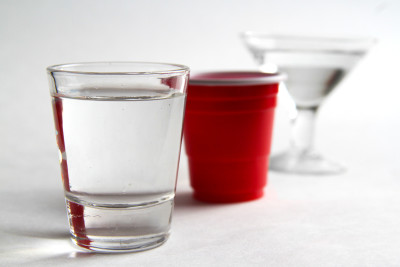 The strength of a state's alcohol policies directly correlates to fewer deaths from alcoholic cirrhosis, according to a Boston Children's Hospital and Boston University School of Public Health study published Thursday.
The study followed previous research on the relationship between strictness of state alcohol policies and drinking behaviors among residents.
The researchers took into account 29 features of alcohol policy, such as restrictions on how liquor can be advertised, when alcohol can be sold and how much can be bought, to formulate a scale to evaluate the effect of a state's policies.
Timothy Naimi, one of the study's lead authors and a professor in BU's School of Medicine and SPH, said the study is part of an ongoing effort to understand how state policies affect the rate of deaths from alcoholic cirrhosis.
"We wanted to focus on alcohol policy. There's a very strong relationship between policy and drinking patterns," he said. "There have been studies and data on incidences with alcohol and car crashes, but this information is more concerned with long-term effects of behaviors."
Naimi said the data on drinking behaviors can be extended to deal with students on college campuses.
"Whether dealing with students on campus or patients in hospital, excessive drinking is the source of problems," he said. "Many people think nothing can be done but in fact, there are important steps to be taken."
Ziming Xuan, a professor of community health sciences in SPH who was involved in the study, said that in the past the research team has found similar results, so in this study the team focused on long-term effects of drinking.
"Individuals from states with more restrictive alcohol control policies tend to have lower levels of binge drinking and alcohol-impaired driving, both among adults and youth," he said in an email. "That motivated us to examine whether stronger policies can eventually reduce more 'downstream' outcomes such as alcohol-related deaths."
The next phase of the study will examine fatalities due to alcohol-impaired driving, homicide and suicide, Xuan said. Results of past studies can be used to highlight the role of alcohol policies in communities such as the one on campus at BU, he said.
"Findings from our studies can inform [the] BU community about the critical role of alcohol control policies in reducing excessive alcohol consumption," he said, "in addition to a host of other community-wide outcomes that could affect everyone in the community and the overall community well being."
Several students, however, are skeptical of the direct relationship between formal alcohol policies and drinking behavior.
Bridget Baker, a sophomore in the College of Arts and Sciences, said laws should be in place to guide students, but could have a negative effect on preventing risky drinking behavior.
"I think your personal level of responsibility is the biggest thing that affects your drinking habits," she said. "Having policies is important, but with an increase in rules, there's also an increase in people being afraid to report an alcohol-related incident, which could be a problem."
Catherine Willis, a sophomore in CAS, said school policies on alcohol often alienate students.
"I think policies on drinking are good at encouraging people to leave campus, but not stopping them from drinking," she said. "If people want to drink, they're going to go somewhere off campus to avoid getting in trouble. It's important to have policies on drinking, but they could do more harm than help."
Marissa Perez, a junior in the Sargent College of Health and Rehabilitation Sciences, said students who are not used to the independence of college life would benefit most from policies and laws.
"I think younger students are the ones who experiment and binge the most," she said. "Having policies in place is important especially for the transition to school, helping you be safe right after you become independent so you can make smart choices and take care of yourself for the future."