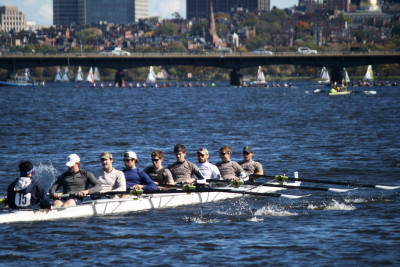 The Boston University men's and women's rowing teams combined for nine top-ten finishes at the 51st Head of the Charles Regatta this weekend.
Since its inception in 1965, the Head of the Charles has attracted the best crew teams in the world to the Charles River for a rowing competition which hosts more than 11,000 athletes and 400,000 spectators.
"The Head of the Charles is always a special weekend for us," said BU men's rowing head coach Tom Bohrer in a release from BU Athletics. "You have 51 years of rowing history with so many of our alumni who rowed in this regatta coming back. Our student-athletes get so fired up for it and want to do well here because they feel like it is their home course."
BU had a fine showing this year, and on day one, the men's and women's teams combined for four top-ten finishes. The men's team saw all three club eight boats finish in the top-ten, while the women's squad finished fifth in the club fours competition.
In the men's club eight race, the Terriers' third varsity boat, coxed by sophomore Justin Goucher, took fifth with a time of 15:32.40. BU's fourth varsity boat, coxed by freshman Sean Dooling, finished in sixth (15:33.51).
For the women's squad, the Terriers placed well in the club fours race, as they finished fifth out of 63 teams. Coxed by sophomore Emily Phaneuf and stroked by junior Kristina Damm, BU crossed the finish line just seconds from third place and a bronze medal with a time of 19:22.18. The women's club eight boat, coxed by sophomore Erin Gannon, completed the circuit 18th out of a field of 38 (18:25.11).
On Sunday, the BU women's lightweights sent out two boats to compete in the lightweight eight and four competitions. Coxed by senior Rachel Cohn and stroked by junior Mariah Ippolito, the Terriers' lightweight eight boat was ahead of crosstown rival Harvard University for most of the race but finished third with a time of 17:15.83, just 0.53 seconds behind the Crimson.
BU's lightweight 2V8, which was in the same race, coxed by senior Jorie Gorski and stroked by Gabby Andreozzi, finished eighth with a time of 18:49.36. The BU lightweight four boat finished fourth of 15 boats in that race. Coxed by freshman Paulina Goossens and stroked by classmate Lucy Geraghty, it finished with a time of 19:50.22.
The women's openweights competed in the championship four and eight races on Sunday as well.
BU's varsity eight boat, coxed by junior Marlaina Miller and stroked by junior Emily Huber, finished 23rd in a field of 32 (17:32.95). The varsity four boat, coxed by sophomore Jessica Grossman and stroked by sophomore Lily Bettencourt, finished in 18th place (20:03.15).
The men's team also placed well Sunday in the championship eight race, with the first varsity boat finishing fifth out of a field of 24 (14:29.90). Only crews from Yale University, University of California, Berkeley, Harvard and national champion University of Washington placed better than BU.
"I thought it was a really solid performance by our 1V," Bohrer said. "Overall, we feel really good about it. We are right at the top with Yale, Washington and California and that's the company we want to be in."