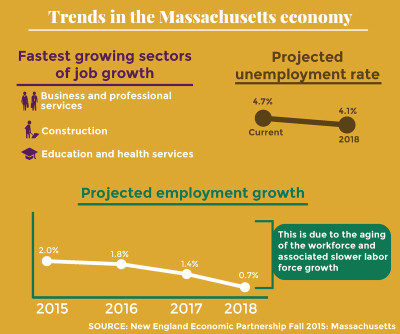 In the past year, Massachusetts has seen an economic boom unlike any since the 1990s, a Thursday report by the New England Economic Partnership stated.
Approximately 90,000 jobs have been created and the unemployment rate, currently 4.7 percent, is projected to dip to 4.1 percent by 2018, the report stated. Additionally, the report indicated that the growth can be attributed to population growth due to immigration.
Randall Ellis, a professor of economics in the College of Arts and Sciences at Boston University, provided some background on the Massachusetts economy and reasons why the Commonwealth is seeing such a boom.
"Massachusetts is in a very good position to benefit from the increased use of high technology medical equipment and devices and treatment patterns," Ellis said. "It is also a hotbed of development for new drugs and we are also benefiting still from the ongoing military spending. I would add education spending is a very important backbone of the economy."
Massachusetts has benefited from a strong recovery from the recession, Ellis said, which may contribute to findings in the report.
"We have had one of the longest, strongest recoveries from a recession over the last six years and so there is some hint of a correction in the stock markets and slowdown in growth, but Massachusetts is continuing to be very strong, as revealed in this report," Ellis said.
The report stated the fastest growing sectors will be business and financial services, construction, education and health services.
Ellis added that there seems to be more openings for those working in the science and medical fields.
"There's a high demand for graduate education trained people in the physical and medical sciences, engineering and computer science," Ellis said. "There's also a large demand for support positions in all of these areas, mainly medicine, education and defense."
Despite the boom, the employment growth rate, currently at its peak of 2 percent, will fall to 0.7 percent in 2018, the report stated. The slowdown will be the result of the aging workforce population and indirect result of "slowing economic growth in emerging countries like China, the European refugee crisis and financial market uncertainties."
Individuals are expected to see an increase in their income as well. Annual average personal income is expected to grow by 5.5 percent this year, falling to 3.9 percent by 2018, the report found.
Massachusetts' transportation and infrastructure challenges are critical to keep the entire state connected to business and the job market, according to the report. Approximately 43 percent of bridges in Massachusetts are structurally obsolete versus 14 percent in the U.S. overall, the report stated.
Additionally, 71 percent of the Massachusetts Bay Transportation Authority's vehicles are beyond their useful life standard of age, which, for light rail, is 25 years. The Blue Line is the only branch of the T that is within that standard. All the Orange Line's vehicles, on the other hand, were built from 1979 to 1981, which means that their useful life standard of age expired at least nine years ago.
Several residents said they have noticed an increase in construction around their neighborhoods, but have not seen signs that employment is at its peak.
Pedro Pizarro, 71, of Brighton, said he has noticed more construction lately, but that it hasn't been something the Boston area was ever lacking.
"I've seen a lot of construction going on around. I came from New York in 1998 and since I've been here I've seen over 200 new constructions including this area [Kenmore]," he said.
Jennifer Farraye, 28, of Kenmore, said while the health care field is supposed to be one of the fastest growing, she has never noticed much of a change in employment either way.
"I'm in the medical field so I hadn't seen much of the recession in the first place," she said. "It's always been a steady pace. In terms of different careers, so I'm not really sure. I haven't really noticed either way."