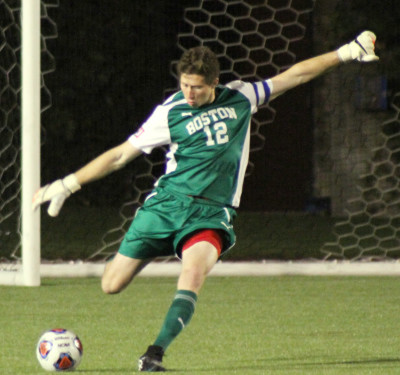 Back home for the first time in 10 days, the Boston University men's soccer team will meet the University at Albany on Tuesday night for both teams' final non-conference game of the 2015 season.
With its 2-1 victory against University of Massachusetts Lowell on Saturday, Albany (7-6-1) reached its highest win total as a team since 2008. The Great Danes will be looking to topple the Terriers (9-3-1, 4-0-1 Patriot League) to notch their third victory in a row, something they have not done since early September.
In terms of offensive statistics, the teams are fairly evenly matched. Through 14 games, the Great Danes are averaging 1.36 goals per game, just behind the Terriers' 1.38. The main difference between the two on offense is the distribution of scoring chances.
For Albany, Brazilian forward Afonso Pinheiro has dominated the stat sheet. Out of the team's 19 goals on the season, Pinheiro has accounted for eight of them. Junior Leo Melgar, another of the team's four Brazilian products, is second on the team leaderboard with five goals. Aside from the two from Sao Paulo natives, only three other Great Danes have reached the back of the net.
While BU coach Neil Roberts admits Pinheiro's style of play will present a challenge, he believes handling him is no different than with any forward.
"You've just got to make him a little bit uncomfortable when it comes to receiving balls and so forth," Roberts said. "That's no different than any forward you'll play against. Whether they're scoring at the time or not, you still have to make sure that they don't get easy looks at goal."
While the Terriers' obvious counterpart to Pinheiro is sophomore midfielder Anthony Viteri, the BU offense as a whole is more well-rounded than that of the Great Danes. Viteri has represented the bulk of BU's offense, as his six goals account for one third of the team's total, however nine other Terriers have managed to find twine this year as well. Viteri and junior forward Felix De Bona are the only two Terriers with multiple marks in the goal column.
Roberts believes the offense is direct result of his team's possession.
"It's just them getting into good positions," Roberts said. "We have some good players, some young guys that are getting a chance to play, and they're coming through. It's just coming from our possession. The opportunities we've been creating have been pretty good [ones]."
Since both Albany and BU have threatening front lines, Tuesday's matchup will depend heavily on the squads' defenses. As the last defense for the Great Danes, goalkeepers Eric Orologio and Danny Vitiello have practically split time in net this season. While Vitiello has edged out Orologio in both saves (34) and save percentage (.810), Orologio has a lower goals-against average (0.97).
Both of the Great Danes' keepers pale in comparison to what junior goalkeeper Matt Gilbert has done for the Terriers this year. Gilbert has a lower goals-against average (0.82) and higher save percentage (.851) than both of Albany's keepers, and has saved more shots (63) and recorded more shutouts (six) than both of them combined.
His sixth shutout came against a defensively minded team in Lafayette College on Saturday, but the defense as a whole performed well. The Leopards (5-4-5, 2-2-1 Patriot League) managed 10 shots against the Terriers, only two of which were on goal.
Albany has had a defensive surge of its own as of late. Over its past nine games, no team has scored on the Albany defense more than two times. The last time three goals were scored against the Great Danes was Sept. 13 when they lost, 3-0, to Dartmouth College.
Tuesday's game will be the first between BU and Albany since they shared the America East Conference, and Roberts admits the Great Danes have become a solid competitor since then.
"Ever since we [left] the America East, this team has probably turned around in a positive way more than any other team in their conference right now," Roberts said, "so it'll be a fun game."