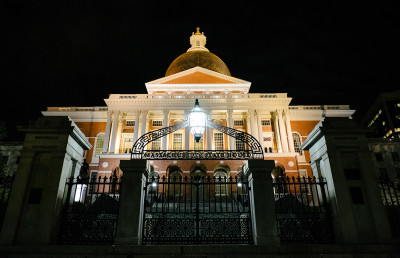 Although capital punishment has been outlawed in Massachusetts, lawmakers are considering a bill that would bring the death penalty back to the Commonwealth.
The legislation, sponsored by Massachusetts Rep. James Miceli, would allow judges to sentence criminals convicted of aggravated crimes, such as first-degree murder, to death by lethal injection. It would also provide those convicted with the qualified legal counsel needed for the appeal process.
"Where a person is convicted or pleads guilty to a crime which is punishable by death, a sentence of death shall not be imposed unless … the jury finds that there is conclusive scientific evidence, including physical or other associative evidence, enabling it to reach a high level of scientific certainty connecting the defendant to the crime," the bill states.
The bill was heard by the Joint Committee of the Judiciary of the Massachusetts State Legislature on Oct. 14.
The last executions in Massachusetts took place in 1947 after two men were convicted of murdering a former U.S. Marine. In 1982, the death penalty was reinstated before being ruled unconstitutional in 1984. A previous attempt to reinstate the death penalty arose in 1997 after the rape and murder of a 10-year-old boy in Cambridge.
Dzhokhar Tsarnaev, who was sentenced to death in May for his role in the 2013 Boston Marathon bombings, was only able to receive capital punishment because his was involved in a federal case. Tsarnaev is currently serving time at the U.S. Penitentiary Administrative Maximum Facility in Florence, Colorado.
Once an individual is found guilty "of murder committed with deliberately premeditated malice aforethought or murder with extreme atrocity," a pre-sentence hearing will be held to determine punishment, according to the bill.
Following the pre-sentence hearing, the judge will instruct the jury about whether or not to impose the death penalty, the bill states. If the death penalty is chosen, the decision must be unanimous or the defendant will receive a life sentence.
Daniel Medwed, a professor from the Northeastern University School of Law, expressed doubts about the law's viability. He said capital punishment lacks national support because people are worried about fairness in how it is administered.
"Support for capital punishment is waning nationwide largely due to concerns about racially discriminatory application and the risk of executing an innocent inmate," Medwed said.
Medwed added that Massachusetts lacks its usual liberal stance on the policy of capital punishment.
"Massachusetts, while renowned for its liberalism, is not always a font of progressivism when it comes to criminal justice," Medwed said.
Lisa Arrowood, president of the Boston Bar Association, said the association does not support capital punishment because it is "fundamentally inconsistent with the fair administration of justice."
"We are proud that Massachusetts has for decades resisted any effort to reinstate the death penalty, and that the national trend is clearly away from capital punishment, as more and more states have come to recognize these fundamental flaws," Arrowood said in a statement.
Approximately 55 percent of Massachusetts residents said they oppose the death penalty, while 30 percent support it, according to an April poll conducted by the Boston Globe and Sage Systems, LLC.
Several residents expressed their distaste for the reinstatement of capital punishment, while some expressed the need for such measures in cases of extreme violence or terrorism.
Peter Bent, 21, of Allston, said he does not believe a judge should have the power to end someone's life.
"I don't think a judge should have the power to say who lives and who dies, and the cost of an inmate on death row with all the appeals and everything is very high," he said.
Brittany McLaughlin, 26, of Brighton, expressed mixed feelings about capital punishment, but noted how significant the reinstatement of the death penalty would be.
"Our prison system doesn't really do justice at punishing people. Capital punishment can have its benefits, but at the same time it's a cruelty to an injustice," she said. "It would bring about a whole bunch of different religious and cultural differences and opinions regarding whether we should be killing people for their injustices. It would be something to talk about."