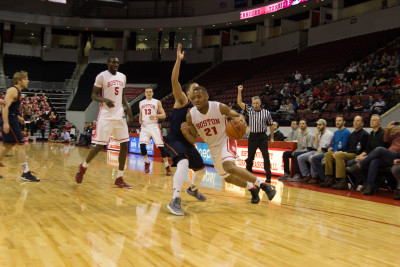 The Boston University men's basketball team was selected third in the Patriot League preseason poll, as announced at the conference's Media Day at the ArtsQuest Center at SteelStacks in Bethlehem, Pennsylvania, on Thursday morning.
Led by fifth-year head coach Joe Jones, the Terriers will look to once again surpass preseason predictions. In their first two years in the Patriot League, the squad has either matched or surpassed expectations. BU claimed the regular season title, as predicted, in 2013-2014, and after being selected sixth last year, ended the year in a tie for fourth.
Jones' team will not graduate a single player for the second time in three years. Junior guard Cedric Hankerson was one of five Patriot League players to earn 2015-16 preseason All-Conference honors on Thursday, following a stellar sophomore campaign.
He finished second in the conference in steals with 1.8 per contest and third in points per game with 15.9. He was the only 2014-15 All-Patriot League honoree to rank in the league for steals, points, assists (2.6 per game) and rebounds (4.6 per game). Hankerson also reached the 20-point mark eight times last year.
The three seniors on the team, guard John Papale, and forwards Nathan Dieudonne and Justin Alston, will also be relied upon heavily in the upcoming season.
Papale, who averaged a team-high 37 minutes per game last year, has 192 three-pointers to his name, tied for fifth all-time at BU. He also finished eighth in the Patriot League in assists one year ago with 3.4.
Dieudonne will look to build off a strong junior campaign in which he averaged 7.4 rebounds per game, the best mark by a Terriers since Kevin Gardner pulled down the same amount of boards in 2005-06. The 6-foot-7 big man out of Louisville, Kentucky, also had six double-doubles a season ago.
Alston, selected as the team's most improved player last spring, ranked fifth in the conference a season ago in field goal shooting percentage (.571). This was the 10th best such shooting mark in BU history.
Look for Alston, Dieudonne and 6-foot-11 junior center Blaise Mbargorba to help solidify the paint for the Terriers this year, an area in which they struggled a season ago.
Despite returning all of its players from 2014-15, BU has added three freshmen to Jones' roster this year. Among them is guard Kyle Foreman, who is a two-time Kingco League Defensive Player of the Year and, according to ESPN.com, the sixth-best prospect coming out of the state of Washington.
While Lehigh University and Bucknell University are ahead of the Terriers in preseason polls, many will not count this team out. With a formidable core still intact, look for Jones and his team to build off last year with a competitive 2015-16 season.