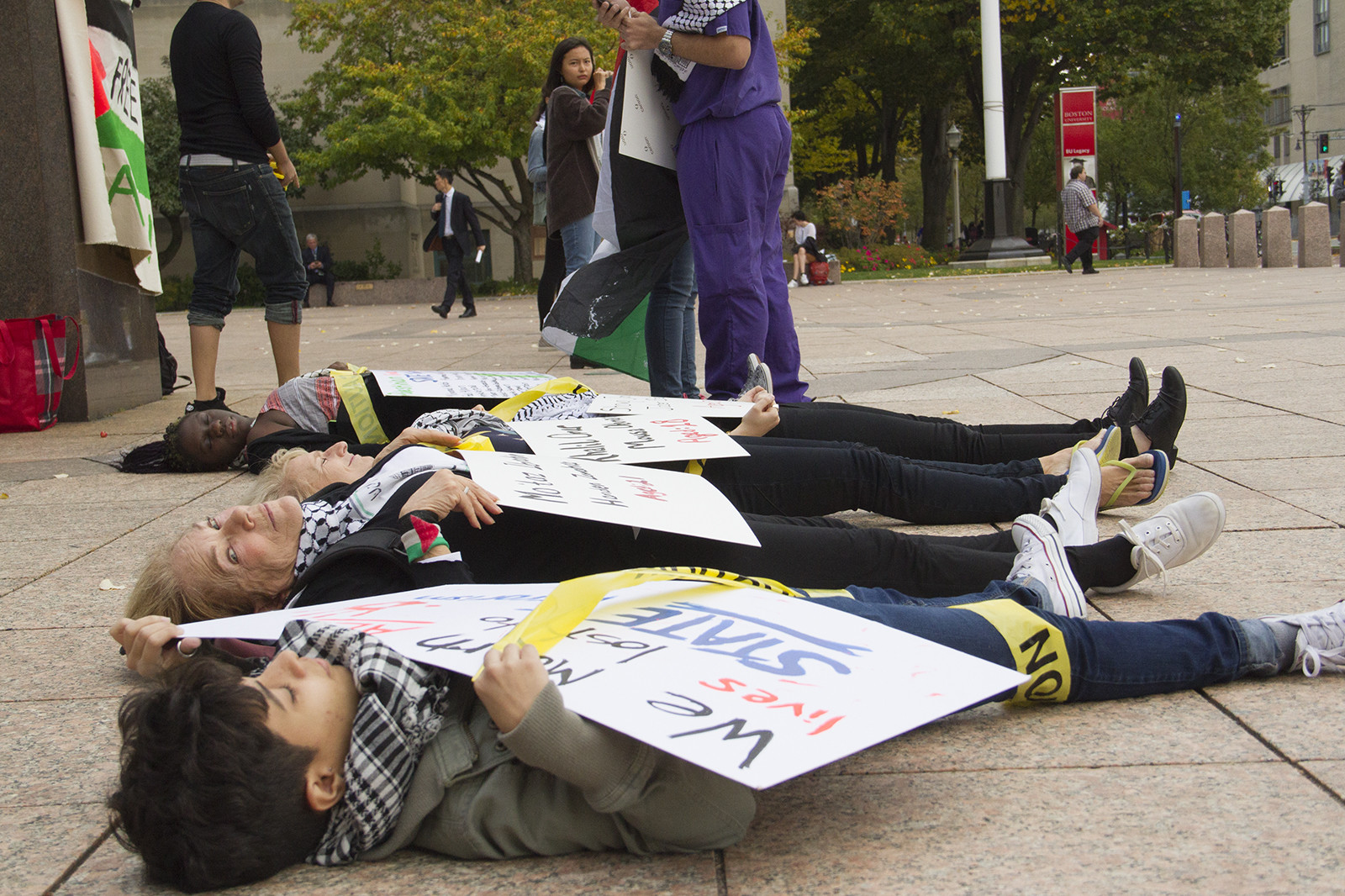 Boston University's Students for Justice in Palestine held a die-in protest at Marsh Plaza Thursday in response to the conflicts between Israel and Palestine in the Middle East.
Eighteen BUSJP members formed a line in front of the statue dedicated to Martin Luther King, Jr. in Marsh Plaza, holding signs and Palestinian flags. During the die-in, a BUSJP member continuously chanted, "Hey Israel, what do you say? How many kids have you killed today?" In response, BUSJP activists one by one dropped to the ground and were symbolically wrapped with caution tape to signify death.
Posters held by BUSJP members read the names and ages of specific people who have died in the ongoing international clash, as well as statements such as, "We mourn all lives lost to state terrorism." Additionally, a hand-painted sign tacked to the MLK statue depicted a Palestinian flag and read, "Hey Terriers, Free Palestine."
Further into the demonstration, students advocating on behalf of Israel came to Marsh and voiced their opinions on the issue in response to the die-in. Tension increased and direct dialogue ensued between members of both student groups.
Approximately nine students clustered together holding several Israeli flags. In response to the die-in and BUSJP's chants, several Israel activists shouted,  "Just stop stabbing us and talk," and "We first and foremost want the killing to end." Others started singing in Hebrew in response to BUSJP's chants.
Yash Kothari, a BUSJP member and a junior in the College of Arts and Sciences, participated in the die-in by handing out flyers to people passing by. The flyer listed facts about the conflict and a message about BUSJP's mission.
Kothari said BUSJP's goal is to get the student body involved and to ask Israel to pay respect to international law and understand that human rights are applicable for all people, not just Israelis.
"It's not about who's right and who's wrong. It's just about what are the facts. It is very clear that the illegal occupation shouldn't exist. [Israel] should go back to the pre-1967 agreement," he said during the event. "[BUSJP] will do what we can to raise that kind of awareness to get Israel to pressure them to get a peaceful agreement."
The die-in attracted the attention of people passing by. Many students and professors stopped to watch the demonstration or take pictures and videos of the protest. Several BU Police Department officers arrived on scene at the beginning of the die-in and remained present the entire duration of the event.
BUPD officers and several BU professors on scene declined to comment on the die-in.
Ethan Sobel, director of student life at BU Hillel, was present at the die-in. After the event, he said that going to college with such a diverse student body opens doors to disagreements.
"We are at a major university in America, and part of being on a campus is that there is a variety of opinions on many topics," he said. "When you have dialogue, you certainly have to abide by university regulations and guidelines, and be peaceful and respectful."
Several students who saw the die-in said the disappointing and concerning nature of the Israel-Palestine conflict demands a more open conversation on campus in order to achieve common ground.
Ashley Tartarilla, a first year graduate student in the Graduate School of Arts and Sciences, said this is an appropriate way for BU students to address the conflict between Palestine and Israel.
"It's such an important thing that's going on in our world right now, and it's not being talked about," she said. "Especially in the media, we only hear the Israel side of it, because they are an ally of ours. I think that [the die-in is] the perfect way to peacefully demonstrate."
Liora Klepper, a junior in CAS, said she is not surprised to have witnessed the demonstration and argumentation between the two student groups given the tragedy that has been taking place in Israel and Palestine.
"It's hard [to start a conversation] because it's emotional, and being part of the Jewish community as someone who supports the right of the Palestinian people to self-determination and their own land is difficult sometimes," she said. "The only way to [address the conflict better] is through dialogue and conversation. This [demonstration] isn't dialogue or conversation. This isn't peace. It's really disheartening."
Ameen Zahid, a junior in the College of Engineering, said the die-in and the reactions of bystanders signify what is happening in the world.
"Watching this die-in you get the sense of death," he said. "On the other side, you see people walking past. They look around and see what's going on. At the end of the day, they'll probably keep on walking past, which is pretty much the same thing that's going on literally in the world."
CORRECTION: A previous version of this story stated that members of the BU Students for Israel group attended the protest, held an Israeli flag and chanted. In actuality, these students were not directly associated with BUSI.