One shot rang off the post in the first period. Then another. Add one more in the second period.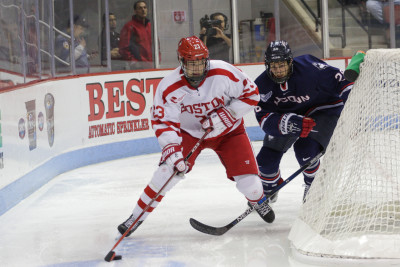 The No. 8 Boston University men's hockey team had one goal through the first two periods of play against the University of Connecticut, but just couldn't break through for more.
Pucks bounced off the goal posts. Passes were intercepted. Chances were squandered.
The way head coach David Quinn put it, his team was "too cute" and looking to do too much individually.
Well, in the third period, it wasn't pretty, but the Terriers flipped the script and didn't let more missed opportunities get away.
With power-play goals from freshman forward Jakob Forsbacka Karlsson and sophomore defenseman Brandon Fortunato and empty-netter from sophomore defenseman Brandon Hickey, BU (2-1, 1-0 Hockey East) won its Hockey East opener over UConn (2-2, 0-1 Hockey East) by a score of 4-2.
BU has now won two games in a row, while also winning its Hockey East opener for the fifth consecutive season.
For Quinn, it was good to get back in the win column, though the process to getting there wasn't the smoothest.
"It's a good way to start the regular season in Hockey East," Quinn said following the win. "Obviously the first two periods we didn't play the way I think we're capable of playing, I certainly didn't think we were on our game, but I certainly think a lot of that had to do with the way UConn was playing."
And that solid play of UConn nearly came to a head just mere seconds into the game. Forward Evan Richardson intercepted a pass at center ice and got a wrist shot past senior goaltender Sean Maguire, but it rung off the crossbar and away from trouble.
Even after BU struck first with a goal from freshman forward Ryan Cloonan, a backhanded rebound near the crease with 2:31 left in the first, UConn hung in the game and kept the Terriers off balance. Early in the second period, things paid off for the Huskies.
About five minutes into the middle period, freshman Max Letunov, a player long thought to be committed to BU, notched his fourth tally of the season. He came in down low near the crease and scored on a backhander high over Maguire's glove.
Three minor penalties later, and BU was out-attempted 22-14 in the second period, with UConn taking a good chunk of time up in its offensive zone.
"I thought they were ready to go, they were physical," Quinn said. "I thought, again, we took some very unnecessary penalties in the second period, stupid penalties."
But BU hung around and kept the game tied through two periods of play. And what had been a game of relying on stout penalty killing and good goaltending all changed in the third period.
The Terriers, who were 1-for-9 to start the season on their own power plays, were given a chance 4:52 in the final frame to improve their 11 percent conversion rate. They did just that at the 5:50 mark of the third period, and then again three minutes later.
While cycling the puck through the offensive zone, senior assistant captain Danny O'Regan found Forsbacka Karlsson on the left wing. Wheeling toward the slot, the freshman rifled off a high, glove-side wrister that UConn netminder Rob Nichols could not grab.
"We had a couple power plays earlier in the game," Forsbacka Karlsson said. "Or at least one where we had a lot of pucks in the zone, but we just couldn't really finish it off. We knew how they were playing, so there was a lot of space down by the side of the net. So I tried to get it down to Danny there. And he made a great pass and found me back, and I just tried to get it on net."
Not long after Forsbacka Karlsson's power-play strike, the Terriers went on a five-minute long man advantage when UConn forward Spencer Naas was called for a major kneeing penalty. Just over two minutes into the power play, Fortunato found himself open at the bottom of the right circle, catching a feed from Oksanen and then wristing a shot far side past Nichols. It was Fortunato's second goal of the season.
Hickey sealed the win with an empty-netter with 16 seconds left in the game.
Sandwiched in between BU's final two goals, Letunov scored on a rebound coming on UConn's third shot of the period — 23.6 seconds left in the contest.
It was a shame for Maguire (16 saves on 18 chances) to give up that final-second goal, according to Quinn, because the senior had performed well in net for the majority of the night.
"He looked good," Quinn said. "He looked confident, he looked aggressive. Disappointed that we gave up that goal with the goalie pulled, it was too bad because it would have been nice to reward him with a one-goal performance but I liked the way he looked."
It started out rough, but any way it's put, Quinn's team is 2-1 with an unblemished conference record. He'll take the win.
"I thought in the third period we really simplified it," Quinn said. "And obviously our power play was incredibly productive and our penalty kill was really good so I mean it was a hard-fought win, which most wins are in this league and it's nice to be 1-0."