In nine minutes of power-play time in the third period, the No. 8 Boston University men's hockey team had two goals to propel it to victory over the University of Connecticut on Saturday at Agganis Arena. But was the final-frame outpouring all because of BU's man advantage? That's not necessarily what UConn head coach Mike Cavanaugh saw.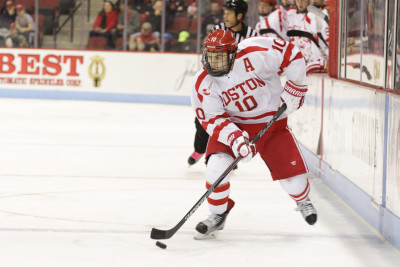 "A lot of people are going to look at the third period and say that special teams were the difference," Cavanaugh said. "And they were. Their special teams are better than ours. But I think it was more than that.
"I think they owned the first four shifts of the third period. That's what set the tone for the third period. It wasn't just their specials teams goals."
The Terriers (2-1, 1-0 Hockey East) set the tone so heavily, in fact, that BU didn't allow UConn (2-2, 0-1 Hockey East) any third-period shots on goal until the final minute of play. While the Huskies made a late surge in the remaining 60 seconds, with three shots and a goal in that time frame, BU held them off for a 4-2 victory to open Hockey East play on Saturday at Agganis Arena.
The three attempts — all with an extra skater, as UConn goalie Rob Nichols was pulled from the game — were the fewest shots BU has allowed in a period since the Terriers held Yale University to just two shots in the third period on March 27, 2015. BU earned 15 total shots on goal in the final frame — its best period total of the game.
"We all just kind of woke up a little bit," said senior forward Danny O'Regan, who had three assists, all in the third period. "We realized we were getting outskated to a lot of pucks, and outworked. All the things that we had in our control. We just flipped a switch, and we skated harder. Just played a little more simple."
With the game knotted at 1-1 — "right where we wanted to be," Cavanaugh said of UConn — BU stifled any offensive opportunities the Huskies had, and capitalized on its own end.
Freshman forward Jakob Forsbacka Karlsson notched his first career goal at the 5:50 mark of the third period to break the tie and give BU a 2-1 lead. Exactly three minutes later, sophomore defenseman Brandon Fortunato had his second goal in as many games to give the Terriers a 3-1 advantage. Both goals were power-play tallies.
While the power-play time certainly gave BU a leg up, Quinn said that the Terriers' approach to the game was more crucial in their success.
"We really just simplified it," Quinn said. "There was much better puck movement, puck support and we got pucks to the net. Any time there was a loose puck, we supported it, we had a good gap and all of a sudden we've got some power plays and did the things we're going to have to do if we're going to have success."
A goal from former BU recruit and UConn freshman Max Letunov, with 24 seconds remaining in regulation, made things close at 3-2, but sophomore defenseman Brandon Hickey notched an empty-netter with 16 seconds left to give BU a comfortable lead.
"I think that they outplayed us in the third period," Cavanaugh said. "That really is the essence, and the difference in the game."