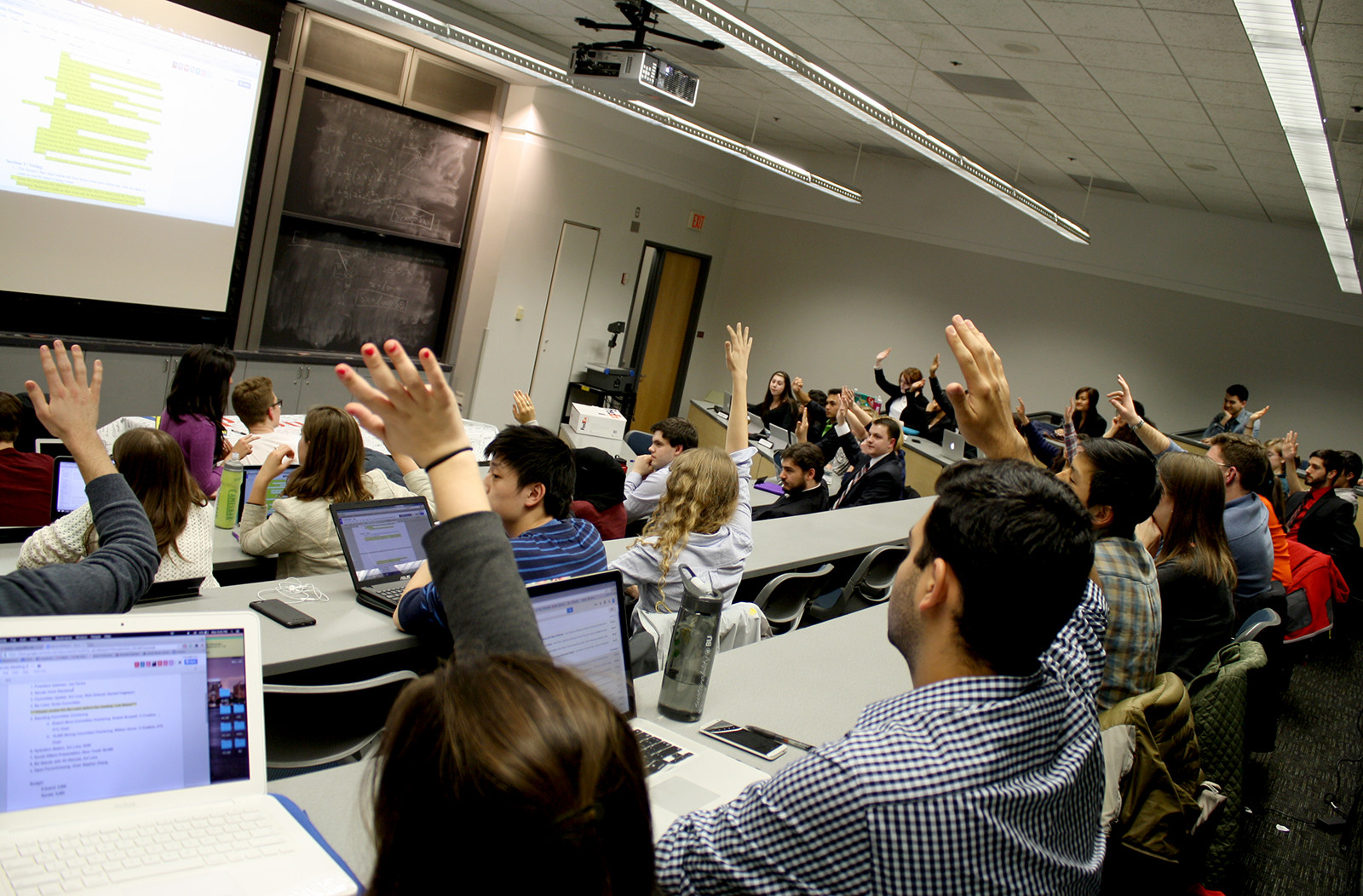 The Boston University Student Government Vice President of Finance was petitioned starting Wednesday evening by new student group Terriers Against Discrimination to resign from her position due to what the petition calls her "discriminatory views" regarding race and religion.
Terriers Against Discrimination, having garnered 354 Facebook likes at press time, was made in an effort to reform the SG Executive Board and fight discrimination against students in SG, the group's Facebook page stated. The leaders of the movement and creators of the Facebook page did not respond to requests for comment.
Kimberly Barzola, a junior in the College of Arts and Sciences, is the current VP of finance for SG. In the past, Barzola has been vocal in her support for Palestine in its ongoing conflict with Israel, speaking out against defining Palestine's actions as "terrorism."
Barzola declined to immediately comment.
The petition further stated that the SG E-board has "created a hostile environment for the only Jewish cabinet member, holding the majority of their meetings on Jewish Holidays." The petition noted that E-board "ridiculed" those who disagree with their political stance.
Rachel Feigelson, a 33 Harry Agganis Way Residence Hall Association senator and leader of the Student Life and Orientation committee, said that 12 hours after going public with her pro-Israel views, she was temporarily fired from her position as deputy chief of staff by Student Body President and CAS senior Andrew Cho.
"I have three positions in Student Government and [deputy chief of staff] was just one of them I asked why I was fired and [Cho] couldn't give me a reason. We've had emails back and forth and I kept asking and he told he couldn't give me a reason," Feigelson said. "When I met with him, he apologized and he gave me my position back. I love my positions but that's not the bigger issue at hand. There's discrimination within the Student Government."
Cho declined to comment on the petition regarding Barzola.
Feigelson said someone uninvolved in SG might have created Terriers Against Discrimination, although she said many had accused her of creating it. Many students outside of SG were angry about Barzola's views and Facebook posts, Feigelson said.
"This is not the first time Kim has posted something like this. Kim has apparently said things to people in person that had just really angered people," she said. "There's a difference between discriminating and having an opinions and I think she's crossed the line."
SG Chief of Staff Akiko Endo, a junior in CAS, said Feigelson was not let go because of her views and the Facebook post she made.
"We had series of conversations with people in cabinet that weren't contributing enough," Endo said. "It was partly my fault for not giving her clear directions on the project that we're working on and we talked this through, I apologized, and we're okay and everything's normal."
Endo said she had not seen Terriers Against Discrimination's page and was unable to comment on the petition specifically.
Senate Chair Stephen Chang, a senior in CAS, said he has not seen evidence that would lead to Barzola's removal from office. If the Judicial Commission department received a letter detailing why Barzola should be removed from office, Chang said, Senate might meet regarding impeachment.
"Our committees have been very productive in the past few weeks and we're going to continue business as usual," he said. "We're trying not to let [the issue] affect us as much until we have the impeachment proceedings that will happen at Senate where the senators will decide if Kim or the E-board have not followed their constitutional duties and should be impeached from that."