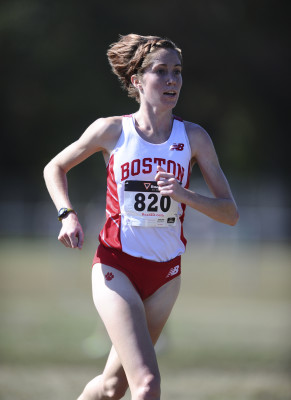 The Boston University men's and women's cross country teams had successful weekends at the CCSU Mini Meet at Central Connecticut State University on Friday afternoon, finishing fourth and fifth, respectively.
This was the final race for each team before next weekend's Patriot League Championships.
The men's team finished fourth out of a 15-team field with 94 points, highlighted by four Terriers in the top 25.
Senior Kevin Thomas continued his strong 2015 campaign with a time of 15:27.9, putting him in 14th place. Freshman Alexander Seal and senior Alec Olson were not far behind, finishing 15th and 16th, respectively, crossing the finish line at the exact same time (15:28.0). Junior Ethan Homan rounded out the Terriers in the top 25 with a time 15:31.2, putting him in 21st place.
Junior Matti Groll finished in 39th with a time of 15:41.7. Two other runners, junior Tom Cunningham (15:59.3) and freshman Daniel Erickson (16:27.4), rounded out the Terrier runners who competed.
BU will look for its first Patriot League title Saturday at the conference championship hosted by Colgate University.
The women's team, paced by freshman Courtney Breiner's ninth-place finish, came in at fifth of 15 teams overall with 160 points. All five Terrier competitors finished in the top 50.
Breiner posted her best finish to date this weekend, finishing with a time of 10:25.9.
Senior Erin Pierce followed for BU, finished in 25th place with a time of 10:26.5. Sophomore Gabrielle DiRenzo was 46th (11:01.0) and freshman Elin Wolker was not far behind, coming in 50th place (11:03.6.)
The final Terriers who competed were freshman Leora Tofler (11:20.5) and junior Colleen Tretheway (11:22.4).
The women's team will search for its third consecutive conference title next weekend at Colgate.