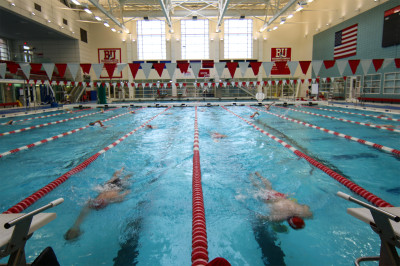 The Boston University men's and women's swimming and diving teams competed Saturday in their third meet of the season at the University of Massachusetts Amherst.
The men's team suffered its first loss of the 2015 campaign, falling 176-122 to the Minutemen. The Terriers were 2-0 heading into the weekend.
BU accumulated six first-place finishes over the weekend.
Sophomore Garrett Chin highlighted the Terriers' tournament by taking the 1000 meter freestyle. Senior Mun Hon Lee and junior Daniel Andronov each had a pair of first-place finishes as well. Lee took first place in both the 100 meter butterfly and 200 meter butterfly, while Andronov swept the breaststroke races.
The women's team, on the other hand, remains unbeaten after defeating UMass 166-129. BU took first place in 12 of the 14 events in which it competed.
Freshman Erin Nabney also remained undefeated on the year, winning the 200 meter freestyle, 500 meter freestyle, and teaming up to lead the 200 meter medley relay team to victory. The Pinner, United Kingdom, native also won the 200 meter individual medley, but her scores were not counted because she swam it as an exhibition after BU had already earned the victory.
Freshman Julimar Avila also notched two individual wins for the Terriers, taking first in both the 100 meter breaststroke and 100 meter butterfly races.
Both teams are back in action on Nov. 7 when they take on Fordham University at home.