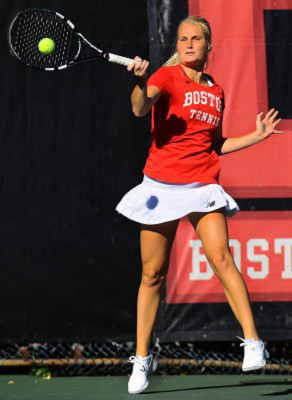 The Boston University men's and women's tennis teams were busy this past weekend, both competing in the ITA Northeast Regionals. The men's team spent part of its weekend at the Tufts Invitational.
Five members of the men's team competed at Regionals, which began on Thursday and ran through Friday at Yale University in New Haven, Connecticut.
Junior Jay Leelavanich, who tallied a singles win at each event this weekend, led the Terriers.
He started by defeating Quinnipiac University's Willem van Biezen in the singles qualifying draw at the ITAs before falling in the final round to Harvard University's Kelvin Lam. He responded nicely at Tufts, though, finishing with a 6-2, 5-7, 10-7 victory against Lam's comrade, Xavier Gonzalez.
Senior William Kwok, senior Stefan Lemire, freshman Satyajit Simhadri and junior Jake De Vries also competed at the ITAs, but lost in their respective singles and doubles matches.
The men's team travels to Smithfield, Rhode Island, this coming weekend for the Bryant Invitational.
On the women's side, senior Johanna Hyoty earned a singles victory and paired with freshman Sabrina Faybyshev for a pair of doubles victories at the ITAs, hosted by Dartmouth College in Hanover, New Hampshire.
BU had four women compete in the event with sophomore Iryna Kostirko joining Hyoty in with a win in the singles column.
Hyoty benefitted from a first round bye and came back from being down a set in the round of 64 to beat the University of Connecticut's Emma Alderman (3-6, 6-0, 7-5). Syracuse University's Gabriela Knutson, who as a high school recruit ranked as high as 14th in the nation, would go on to defeat Hyoty in straight sets in the following round (6-3, 6-1).
Also in singles action, Kostirko began the tournament with a victory for the second consecutive season vs. Chantal Martinez Blanco of the University at Buffalo (6-4, 6-2), but fell to Gina Li of Rutgers University in two sets the following round (6-3, 6-3).
Faybyshev and senior Lauren Davis lost their first matches to opponents from Brown University and Boston College, respectively.
In doubles play, Hyoty and Faybyshev claimed victories over pairs from Fordham University and St. Bonaventure University by consecutive scores of 8-5. This was the second time in Hyoty's career that she reached the quarterfinals, after accomplishing the feat in 2013.
The pair was eventually eliminated in the round of 16 by Dartmouth's top-seeded Kristina Mathis and Taylor Ng (8-2).
The women's team will complete its fall slate at the Harvard Invitational from Nov. 6-8.