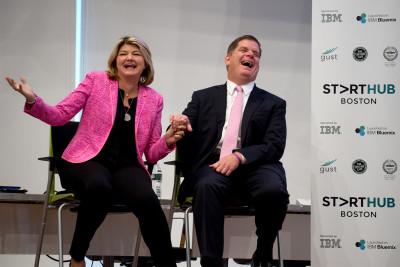 Focusing on innovation and technology, Boston Mayor Martin Walsh announced Tuesday the launch of StartHub, an online platform designed to expedite the further development of the city's booming industry.
StartHub will facilitate development by acting as a network through which investors and entrepreneurs can find partners to collaborate, pool resources and ask for advice, according to a Tuesday press release.
Rory Cuddyer, startup manager for the City of Boston, said StartHub will be great for residents within and just outside of Boston.
"It's not just for the city of Boston, it'll be useful for everyone in eastern Massachusetts," Cuddyer said. "Boston has many people trying to start up their companies. It can just be difficult to find all of the information you need or to manage all the different resources available to you. This site is such a great resource to act as a directory of jobs, events, investors."
Drawing on technological and startup managing talent, the City partnered with IBM, Venture Café Foundation and Gust for technical expertise.
Sandy Carter, IBM general manager for cloud ecosystems and developers, said the company is proud to have such a strong partnership with Boston and startup programs.
"This is a driving force in why IBM continues to invest in local digital communities," Carter said in the release. "StartHub is designed to bring the city's dynamic and creative business culture into the cloud, and will help to unleash new innovation which will solidify Boston's status as one of the world's greatest technology hubs."
Kevin Wiant, executive director of the Venture Café Foundation, said in the release that StartHub will be a useful tool that will help "connect all parts of the innovation community to help start and grow businesses."
David Rose, CEO of Gust, said in the release that he sees StartHub as the perfect symbiotic relationship between the private and public sectors.
"StartHub is an embodiment of how the public and private sectors can align to support and drive innovation by building the infrastructure for a world-class startup ecosystem," Rose said in the release.
Cuddyer explained that the initial idea for the program, which the Mayor announced during his 2015 State of the City address, came after seeing the success of a similar program in New York.
"Back in January, the Mayor announced he was starting StartHub," Cuddyer said. "We realized it would be a great idea to have something similar here. It's a project that has been ten months in the works."
The startup bubble is expected to act as a catalyst for economic growth and technological reform in the City of Boston, according to the release.
Several Boston residents expressed excitement for the booming tech industry in Boston.
Reuben Strayer, 42, of Jamaica Plain, said he was happy that the city is trying to encourage the tech industry to do well.
"Boston is a great city that is full of innovation," he said. "I'm glad the city is trying to make it easier for tech industries to be here and do well."
Plinio Brea, 55, of South Boston, said how pleased she was that the city is encouraging the growth of business in Boston.
"If tech companies are what's going to do well in the future then I'm glad the city is encouraging them to do better and better," he said.
Madeline Rock, 33, of Beacon Hill, explained how the high population of young people makes Boston a great place for tech industries to come.
"You know Boston is a city full of students," she said. "These students are well-educated and many of them come out of college and look for jobs right here. That's why tech startups do so well here is because there is a huge number of qualified, educated young people looking for jobs."