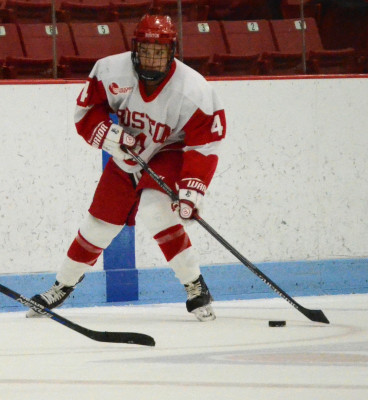 Coming off another up-and-down weekend, the No. 14 Boston University women's hockey team will take to the ice again Sunday in an away matchup at the University of New Hampshire.
The Terriers (4-4, 3-1 Hockey East) come into this game having looked like two different teams this past weekend against Northeastern University and the University of Vermont.
On Saturday, BU got pummeled by the Huskies (6-1-1, 2-0 Hockey East) in a 7-1 defeat, only to come back the next day at Walter Brown Arena and best Vermont (1-7, 1-1 Hockey East), 5-2.
This has been a recurring theme for BU coach Brian Durocher's squad through the early part of the 2015-16 campaign. It has been playing solid hockey in spurts, but has struggled to find that consistent high level of play that led it to the NCAA quarterfinals one season ago.
"We need to just have a little bit more compete," Durocher said. "We may not be the biggest team in college hockey, so you can't be on the perimeter, you can't be sort of covering people, you really, really have to compete and be persistent defensively and even offensively around the net."
This BU team is no stranger to adversity, though, and with a veteran group like this one, Durocher is confident that his team will find that consistency necessary to succeed in a highly competitive conference.
The problem for the Terriers will not be scoring goals this season, as they currently rank third in the conference with three goals per game. Rather, it will be limiting the opposition's offensive chances and improving on the penalty kill.
Part of the dilemma that Durocher faces is that both of his netminders, junior Victoria Hanson and sophomore Erin O'Neil, have shown flashes of brilliance, but neither has been consistent.
At this point in the year, the two have split time evenly, with each goalie starting four games. O'Neil's .917 save percentage and 2.44 goals-against average is better than Hanson's .879 and 3.78 marks, but Durocher and his staff have yet to determine their true starter.
BU ranks near the middle of the pack in terms of penalty kill percentage at .846, but power-play goals for the opposition were a particular problem in the game against Northeastern. The Huskies went 2-for-3 on the power play in their victory over the Terriers.
Offensively, there has been a great balance, with 10 different players scoring goals for BU thus far this season.
The Terriers are led by second-line wings Rebecca Leslie and Rebecca Russo, who have nine and eight points, respectively, on the year. The sophomore and senior leading scorers, along with junior forward Maddie Elia (three goals, two assists), make up a skilled line.
For the Wildcats (0-7, 0-3 Hockey East), it has been a disappointing start to the season, but they are not a team to be taken lightly.
Second-year coach Hilary Witt was an assistant with the 2014 U.S. Women's Olympic Ice Hockey Team before her time at UNH, and is highly regarded by Durocher.
"She's a very, very good coach who was very successful and accomplished at Yale [University] and with our national teams," Durocher said. "There's no question that there's good guidance from her and from her staff — she's got two very experienced assistant coaches as well."
UNH returns 17 players from a season ago, one in which it finished with a 10-23-3 record.
Despite sitting near the bottom of the league in most categories, including giving up the second-most goals per contest (4.14), the Wildcats' record does not tell the whole story.
They played tough in two away contests against No. 3 Clarkson University, losing the first game 4-2, and the second one 6-4. They also barely lost a 3-2 decision to a strong Syracuse University team earlier this month.
The Wildcats' leading scorer, junior Jonna Curtis, has five goals and two assists on the year. Defenseman Amy Schlagel leads the team in assists and is second in points with five.
"I just think that they've been knocking on the door with some close games," Durocher said. "Sooner or later you're going to get one, and I'm hoping it's the following weekend and not this weekend.
"But we need to worry about ourselves," Durocher added. "We've been a little bit erratic and that means that we've got to take care of our own details, maybe finish some chances early in the game."