NORTH ANDOVER — It all came down to one minute. The No. 8 Boston University men's hockey team, after falling behind early by two goals, had worked its way back into a tie against No. 17 Merrimack College.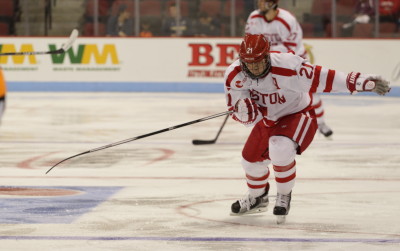 But 14:27 into the second frame, with the teams playing 4-on-4 after matching penalties, forward Hampus Gustafsson tipped in a puck to give Merrimack (3-0-2, 1-0-2 Hockey East) a 3-2 advantage. Just more than a minute later, with the teams still playing 4-on-4, freshman Ethan Spaxman's first collegiate goal pushed the Warriors ahead 4-2 at the 15:30 mark of the second.
BU (2-3, 1-2 Hockey East) got a goal back, but the Warriors outlasted the Terriers 4-3, on Friday at Lawler Rink.
"One minute of the game cost us," said BU head coach David Quinn. "They get two 4-on-4 goals, which, we should be pretty good at 4-on-4, but we just — we're finding ways to lose right now."
With Tuesday's 5-2 decision against the University of Connecticut and then Friday's loss, BU had its first set of back-to-back losses since a set against the University of Notre Dame on Feb. 21 and 22, 2014. The Terriers also remained winless on the road for the season.
Merrimack remained undefeated at home.
Just 48 seconds in, BU allowed its earliest goal of the season, when Merrimack center Brett Seney swooped up the left side of the ice and beat BU goaltender Sean Maguire with a high wrister. Forward Ben Bahe picked up another goal at the 9:26 mark of the first to put the Warriors up 2-0.
Despite BU's inability to score in the first period, Quinn said he felt the Terriers were able to regain some momentum.
"I thought after we stopped feeling sorry for ourselves after we got down 2-0, I thought we controlled the last 10 minutes of the first period," Quinn said. "I thought that just continued into the second."
The Terriers managed to get back into it when sophomore defenseman John MacLeod slapped home a goal 4:29 into the second period for his first point of the season — and his first goal since Dec. 13, 2014 — to cut the score in half. Senior assistant captain Matt Lane hustled to the net for his third goal of the year less than four minutes later to tie things up.
But the tie would be short-lived.
"For a while there in the second period we figured it out," Lane said. "And then unfortunately we lose a couple bounces, and we lost about a minute of hockey, and it turned out to be the difference in the game."
Following Spaxman's score to put Merrimack up 4-2, sophomore goaltender Connor LaCouvee replaced Maguire in net and played the remainder of the game, posting 22:23 of shutout hockey and recording 12 saves in that span. Maguire had 10 saves on the 14 shots he faced.
Merrimack goaltender Collin Delia recorded 34 saves on BU's 37 shots.
Sophomore defenseman Brandon Hickey scored from the left point to move the Terriers within 4-3 at 3:56 into the third period, but Merrimack held BU scoreless for the remainder of the game, despite the Terriers holding a 14-8 advantage in shots on goal in the frame.
"It seemed to me from standing behind the bench, we spent a lot of time in their end," Quinn said. "I don't know how many quality chances we had. I know we had some chances but they do a great job packing it in, they defend well, they make you earn everything you get.
"We just weren't able to get the fourth goal."