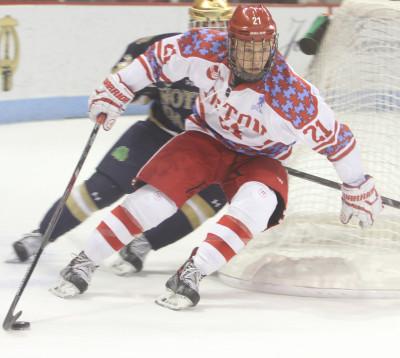 Less than 48 hours removed from Tuesday's 5-2 loss to the University of Connecticut, David Quinn, head coach of the No. 8 Boston University men's hockey team, played oblivious.
"We didn't play Tuesday, I don't know what you guys are talking about," Quinn joked on Thursday. "Was there a game Tuesday?"
With the loss seemingly in the rearview, BU (2-2, 1-1 Hockey East) will face its toughest weekend yet: its first ranked opponents of the season in back-to-back games against No. 17 Merrimack College and No. 5 University of Denver.
"We've already put it behind us," said senior assistant captain Matt Lane of the loss. "Obviously we don't want to forget about the mistakes we made and how to correct them, but we've got two good days of practice in, and we've worked on the things we need to work on to make sure we're 100 percent ready."
The Terriers faced Merrimack (2-0-2, 0-0-2 Hockey East) more than any other opponent last year, meeting them twice in the regular season and twice again in a Hockey East quarterfinal series. BU dominated the season series, going 3-0-1 and outscoring the Warriors a combined 16-5 in those matchups.
Goaltender Collin Delia, whom BU faced in two of those four games last year, has seen the majority of time in net for the Warriors in 2015. Thus far, he has amassed a 0.97 goals-against average and a .953 save percentage, both of which are fourth-best in the conference.
When BU travels to Lawler Rink in North Andover, it will try to snap its 0-2 road record this season. The Terriers will also look to avoid their first back-to-back losses since Feb. 21 and 22, 2014.
Quinn said he anticipates senior goaltender Sean Maguire starting in net, with Maguire's allowing two goals in his last start on Saturday.
BU will also shuffle its forwards: freshman forward Jakob Forsbacka Karlsson, who has one goal and three assists this season, will make his first start on the first line, centering senior assistant captain Danny O'Regan and senior forward Ahti Oksanen. On the second line, Lane will center freshman forwards Jordan Greenway and Ryan Cloonan, who is tied with O'Regan for the team lead in scoring (five points).
Following that game with its adjusted lineup, BU will return to Agganis Arena for a Halloween matinee against Denver (4-1-0) on Saturday.
BU last faced Denver on Dec. 29, 2012. Only four current senior Terriers — Lane, O'Regan, forward Mike Moran and Oksanen — saw ice time in the 6-0 loss.
This year, Denver is led by senior Nolan Zajac and junior Matt Marcinew, who each have four points on the season. The Pioneers also return 2014-15's NCHC Forward of the Year and a Second Team All-American, junior Trevor Moore, who led the conference in league scoring and had 44 points on the year.
The team's sole loss came in a 5-4 overtime result against the U.S. Air Force Academy. In its four wins, Denver has outscored opponents 14-3.
Despite the upcoming tough tests, the Terriers said they are fully aware of what they need to do to get back on track.
"It's just all the little things," Lane said. "Some of the stuff that we know is correctable, some of the stuff we know we're good at, and we're letting things slide mentally. Coach harped on them this week, we harped on them whether it's individual meetings or video, and I think the guys have heard it enough to know what we need to correct and what we need to do moving forward."
Quinn put it more bluntly.
"Right now we've got hard-nosed players that are playing soft," Quinn said. "We've got smart players playing dumb. … We've got to get back to doing the things that we've done the past 16 months that have allowed us to have success."