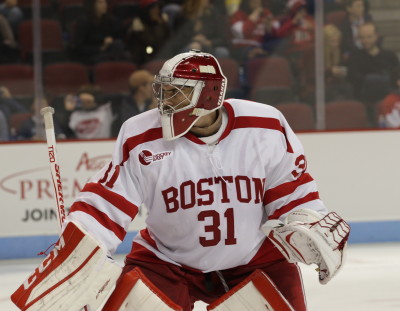 NORTH ANDOVER — The first shot of the game found the back of the net.
Coming down the left wing, No. 17 Merrimack College center Brett Seney took the puck on his forehand by the faceoff circle and wristed it uncontested at senior goaltender Sean Maguire. Just 48 seconds had elapsed, and the chance beat him glove-side high.
The goal was the first of four Maguire would let in on 14 shots Friday evening as the No. 8 Boston University men's hockey team fell to the Warriors (3-0-2, 1-0-2 Hockey East) 4-3.
Merrimack's second marker at 9:36 in the first from senior Ben Bahe beat Maguire on the right. The puck had been turned onto his pad and Bahe was able to jam it over the goal line to put his team up 2-0.
The Terriers (2-3, 1-2 Hockey East) took control of the game and managed to tie things back up with 8:17 gone in the second period, but the stalemate didn't last all that long.
Penalties to sophomore defenseman John MacLeod and senior John Gustafsson for slashing and embellishment, respectively, set the sides to skate at four apiece with 14:08 gone.
Twenty seconds in, BU had had a 3-on-2 but managed to turn it over and allow Merrimack to take it back the other way. Gustafsson's brother and linemate Hampus redirected a pass across the slot from Bahe into the net from the left.
A minute and three seconds later, still 4-on-4, freshman Ethan Spaxman came down the slot uncovered as the Terriers puck-watched and fired at Maguire. He scored, and the tally was signal for sophomore netminder Connor LaCouvee to take over between the pipes. He saw 12 shots and turned each one aside.
Through three starts and 62 shots faced, Maguire has the second worst save percentage in Hockey East of those logging at least 40 percent of their team's time in net with an .839 mark. Only Northeastern University's Derick Roy's .792 is worse.
Maguire most recently allowed two goals on 18 shots against the University of Connecticut last Saturday and conceded four on 30 shots vs. Union College on Oct. 10.
The numbers for him and LaCouvee, who has an .889 save percentage, aren't ideal for a top-10 team, but it's October and there's plenty of hockey to be played and plenty of time to adjust.
BU head coach David Quinn isn't concerned.
"I know they're really good goalies," Quinn said. "I'm concerned the way we're playing right now because you look at our save percentage, it's not what you want it to be, and I know it's not what they want it to be, but they're both two very good goalies, and I know we're going to have great goaltending this year."
Maguire is in his first month of college hockey after sitting out a year to recover from a severe concussion and so will likely take time to get back into the swing of things.
"Listen, he missed a full year of hockey," Quinn said. "He's a great goalie. Obviously I'm sure he would have liked to have played better, but we've also got to do a little bit better job in front of him too, but I think we only gave up 26 shots tonight, so we're a work in progress.
"Like I said, it's October."